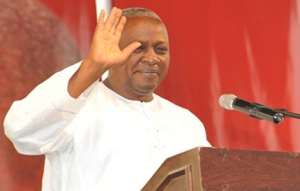 "Give Mahama chance to transform nation"
Renowned Ghanaian scholar, who works with the United Nation's Department of Economic and Social Affairs, Dr. Ivy Ntiamoah, has reaffirmed that former President John Mahama has built a vision for the nation and should be given another opportunity to transform the country fully.
The imperative sense in her word of wisdom lies here:
1. "John Mahama built a vision of a unified Ghana, the kind of investments he made was strategic and good for the country's economic takeoff and people may disagree with that, but I think that is what Ghana needs at this point in time".
2. "John Mahama as President between 2012 and 2016 offered the Ghanaians a new Ghana, they need to give him a second opportunity to accomplish his dream and to fully, transform the country".
3. "He is able, capable and innovative enough to look at Ghana afresh and I for one am optimistic that with his leadership, Ghana will be that Ghana which he promised...".
4. "I will never forget the way Mr. Mahama found solutions to the numerous challenges he inherited including the energy crisis.
5. "The man's vision is what Ghana and most African countries need, such a vision needs everybody to rally around the direction, we as a country or the citizens of Ghana need to get back that pride that we should have that we are Ghanaians.
6. "We are Ghanaians first, before belonging to various political parties, we have a country we belong to which we should be proud of and we seem to be losing that somewhere," Dr. Ntiamoah lamented.
MY TAKE
Let's remember that this Dr Ivy Ntiamoah had worked at the Office the President under ex-President Agyekum Kufuor as a special adviser to the President on Governance and Social Affairs.
We must also not forget the fact that when the mantle fell on him, John Mahama never ever complained about the challenges left behind by his predecessors.
He never for once condemned the British colonial establishment, the Great Osagyefo, the leaders of the various military juntas, Dr. Limann, Jerry Rawlings, Kufuor, and Mills.
He put his shoulders to the wheel and ground on, doing what Dr. ivy Ntiamoah has cited as evidence of his status as a man of vision (Here, I turn round quickly to insult Nii Amasa Namoale, a former NDC MP, as the most stupid and useless character in the NDC for attributing the NDC's defeat at Election 2016 to Mahama's visionlessness.).
Mahama went all out to stamp his authority on the Ghanaian situation, ensuring national unity while pursuing his development agenda for the country's good.
His bitter opponents who reached out to the electorate with lies and fabricated nonsense are in the saddle now, struggling to do what they had promised. Unlike Mahama, they are all over the place, passing the buck, messing up every sector of national life, and blaming Mahama for their inability to perform.
I am happy that those who worked with Kufuor and saw what the situation was and how it changed drastically under Mahama are coming out to speak loudly and clearly. They have patiently observed goings-on under Akufo-Addo, compared notes, and are telling us what we need to know as we gear up for Election 2020.
This woman's word of wisdom shouldn't be neglected. It is instructive and should inform the political behaviour of Ghanaians.
(Lest we forget, there is talk from the super-duper incompetent Akufo-Addo camp that Ghana's economic performance has been upgraded from a "B minus" to a "B" by Finch or whatever institution has arrogated to itself the power to rate countries' economies worldwide.
I wish they had talked to ordinary Ghanaians or observed the situation in Ghana under Akufo-Addo before rating the economy. The real impact of the government's performance lies in the stomachs of the people, not a bunch of sterile statistics. As Bob Marley puts it, her who feels it knows it!!).
I urge Ghanaians to ponder seriously (over) what Dr. Ntiamoah has revealed and be guided so they can save the country from being plundered and plunged into the canyon of doom that Team Akufo-Addo is busily leading it to. It is a canyon of doom, not the light at the end of the tunnel.
I shall return…
By Dr. Michael J.K. Bokor
(E-mail: [MG] [email protected] )
Sunday, September 16, 2018