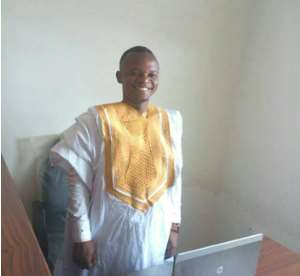 Dear Alhaji Dr. Mahamudu Bawumia,
The almighty GPS leap frogger, how are the US, UK, German and Swedish technologies? Have they consulted you for technical advice on how to catch up with Ghana? Sorry to ask, it is because your renamed Asaase GPS is expected to have reached the moon by now. Please can you locate the missing Angolan satellite? They are our brothers, we need to help them.
By the way, happy new year to you, Aunty Samira and her rival, I mean your 'warigida' she has found it more convenient to overshadow.
My salutation might have also confused you a little because we have not been friendly for long. I decided to be so because it is a new year, new season of which I am hallucinating you've turned a new leaf though many Ghanaians after receiving a bitter yuletide from you and your self-acclaimed competent boss and his 110 hired blumbers who are goofing all over and doing more damage than blind horses in empty barns cannot believe there will ever be a changed Bawumia. 110 overpaid tap dancers.
I wish I had the 2018 padlock and key to lock you and your boss, the priest of corruption and the family, friends, associates and concubines commissioner general behind to save Ghanaians from being visited with another unprecedented hardship.
We were promised a much better competent economic management team when your bus arrives but it rather brought us blumbers who are easily recognizable as popcorns.
Dr. Bawumia, whereas you are celebrating new year with so much joy and fulfilment, Ghanaians are wallowing in pain, unprecedented hardship and anguish. The 2017 Christmas was bedevilled with insecurity and corruption at it's highest levels. We are beginning the year with the balance carried forward from the 2017 fiscal year. Prices of goods and services are skyrocketing whilst you continue to worry our ears with inflation is reducing. Perhaps your ECONS 101 notes have gathered dust. I need to alert that reduced inflation is meaningless unless it leads to the reduction of prices of foodstuffs and other consumables.
Dr. Bawumia, are you and your economic management team in Ghana? Traders are unable to sell because consumers do not have the purchasing power. Workers celebrated Christmas without their December salaries, an enviable stupid achievement in the history of this country. Unemployed graduates are in a messy situation. By now I hope the Nation Builders Corp has taken off. Their budget covers this whole year, of which January is the first. Hmm!
Dr. Bawumia what happened to the US dollar you arrested and handed over its prison cell key to the IGP? How did it manage to escape? The GHc3.9-$1.00 exchange rate have metamorphosed to GHc4.7-$1.00 today; how did we get here? Importers are suffering and crying because your promise to scrap import duty has become a fairy tale. Your deceptive scrapping of the 17.5% VAT and replacing it with a 3% flat VAT rate has rather increased it beyond 20%. I don't know what competent algorithm you used to arrive at this. Is it a Walewale economic formula? Even the illiterate traders have condemned this your misleading 3% flat rate.
The higher an ape climbs, the more he exposes his bald ass.
You are the Lord of Lies, Hopelessness, and Deceit. If you think I'm harsh let's go for a reality check of your own words spat once upon a time and you would realise that I'm even more economic with you.
Dr. Bawumia, the crow that mimics a sea gull drowns. When you were a running mate, you organised a dramatic press conference to ask Vice-President Paa Kwesi Amissah Arthur"170 economic questions" which which you claimed he could not answer. The questions were meant for only vice Presidents remember? You are now the Veep, so how many of the 170 economic questions have you been able to answer? Ghanaians wants to know. Amissah Arthur has challenged you to answer the false statements you claimed are questions. It has become the case of an examiner having no clue to develop a marking scheme for his own examination questions. Waaao!
You consistently chastised Former President John Dramani Mahama for borrowing. You said it was incompetent to borrow and that President Mahama has an insatiable appetite for borrowing because he is incompetent, all he thinks is borrowing. "The money is there and I know because I have worked in the Bank of Ghana before" were your own words. President John Mahama constructed 123 Community Day Senior High Schools, several CHIPS compounds, Ridge Hospital, the Legon Teaching Hospital, the Military Hospital in Afari in Kumasi, an Ashanti regional hospital in Sewhia, the Kumasi international airport, the Tamale International Airport, the Kwame Nkrumah interchange, the Kasoa interchange, the Komenda sugar factory, constructed many kilometres of roads more than any government in the 4th Republic of Ghana etc. yet you said he was borrowing to consume.
Ever since your NPP assumed office, you have led Ghana into the actual reckless borrowing. You in less than a year borrowed over GHc40billion, far higher than what President Mahama's government borrowed in his 4-year tenure. No kilometre of road has been constructed with that money, no toilet has been constructed with that money, no single school has been constructed with that money. The question Ghanaians are asking is that; where is the money? Used for consumption? And the most competent economic wizard is supervising this? Has you economic wizardry gone on hibernation? You have even hired another blumber easily recognizable as popcorn, Dr. Gideon Boako, as your economic advisor. The economic wizard now needs the guidance of another wizard much below his level to offer him counsel? If an economist who can pose 170 economic questions would have an economic advisor lower than his status, then we are in a huge difficulty. A blind driver on a reverse gear taking directions from a dumb mate is the case of our economic situation presently; the battle is the Lord's is all I can say.
I believe you now appreciate it when John Mahama advised you to shut up because you have not been President before. The fact and realities are now before you. What an elder can see sitting a child cannot see even when he climbs the coconut tree. When you were busy throwing dust into the eyes of unsuspecting Ghanaians, we admonished you to chart a right course, you berated us and told us we don't read. Have you now seen that you were romancing stones then? Absolute absurdity. Governance is not a child's play.vv
Perhaps at your level then, you were so naive and now that you are a Veep haven't the reality of governance demonstrated to you how arbitrary, short sighted, deceitful, petty, spiteful, and completely irrevocably stupid most of your comments then were? Coming events cast their shadows indeed.
Dr. Bawumia, you have a 'Pinocchio' syndrome. It is difficult to detect your lies. No blinking, blushing, stammering and gulping whatsoever. You are a born liar, with a pathological compulsion to subvert the truth. If not how can you buy a free app on google app store for $2.5million? Ghanaians would be paying an additional $800,000 fees annually. All you could tell us is that Ghana is leapfrogging the US, UK, Germany and Sweden in Technological advancement. In 9 months? Awurade Yakubu, where was your sense of judgment then? Always spreading beer parlour propaganda. You peddled it as running mate but as to why you still engage in bear parlour propaganda, I don't know.
You told Ghanaians that Moslems were skewed at the Flagstaff House in the erstwhile NDC government and that when you win power as a MOSLEM VEEP, Moslems will have full representation at the Presidency with the Quran being visible . One year on, you are only seen moving from one church to another singing and dancing more than Christians. Is that the Moslem representation you were referring to? How many Moslems are in Cabinet positions presently? Can you mention just a name? So far what has the Ministry of Zongo Development achieved? Where is the Zongo Development Fund?
Where is your one district, one factory you promised? You said 51 factories would be ready by end of December 2017; we are in January 2018. Anyway i am ready to wait. You may be using Chinese calendar since the leveraging for the factories will come from there. They are still in 2017.
Where is the 1 constituency, $1million you promised? I'm in my constituency and they have not received a dime of it. Even my DCE is even not on salary yet. He is not alone in this wahala. No wonder they've turned themselves into looting brigades.
Where is the 1 village, 1 dam you promised? My Village is so anxious to receive theirs. You said it was raining but the last time I checked, it stopped raining in mid October oooooo.
Where is corporate tax reduction from 25% to 20% you promised the industrial sector?
Where is the utilities tariffs reduction you promised? The cost of electricity is still higher than the cost of rent.
Where is the reduction in the prices of petroleum products you promised? You labelled John Dramani Mahama insensitive for selling a gallon of petrol for GHc16 how should we label you now that you are selling same gallon to us for GHc 25? Just in 12 months remember? Ghanaians can't afford to pay transport fares any more.
Where is free import duty on all imported raw materials you promised?
You promised to pay DKM customers and other Micro finance investors swindled of their investments and interest, how many of them have you settled and where are they?
You promised unemployed graduates jobs, how many of them have you been able to engage and where are they? You have pledged to put our graduates in the streets back to work and to open doors of opportunities to Ghanaians and to restore prosperity, how far have you gone with this?
All you and your Chief priest of corruption and surrogate is doing in an attempt to cover up the corruption that have rocked your regime is paying the pundits to slice and dice the NDC into Rawlings and Mahamas' but the NDC have got this news for you too; stop romancing stones, as Rawlings put emphasized yesterday at Ho, there is neither Rawlings NDC nor Mahama NDC, there is only one National Democratic Congress. We are one people and we accept our short comings. Fix the economy. Stop smilling and nodding.
I have this to conclude, you are in the family, friends, associates and concubines league; the biggies. Stop making things look as if we are a congregation of followers of mother Teresa and fix the economy.
I shall be back.
Assibid Dauda
The Binduri Youth Activist