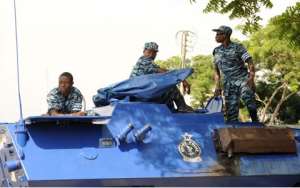 So deeply ingrained in the minds of racist individuals from the Middle East who live in Ghana, that Africans are an inferior race, that Hadaad Rabih - that vile character said to be originaly from Lebanon who is accused of raping his 19-year old househelp on at least two separate occassions - clearly thinks he can feign illness and escape going to jail on remand, whiles the very serious crime (violent rape) he is accused of is being investigated by the police.
A man whose abominable and unpardonable cruelty to his helpless and defenceless househelp, mark him out as a monster, must not be allowed to escape being kept incarcerated in police cells, whiles the rape allegation against him is being investigated, under any circumstances. He is no different from any other violent rapist in Ghana and must not be given any preferential treatment.
The more responsible sections of the Ghanaian media must follow the case closely and ensure that the police investigators handling the matter act professionally at all material times - and demand that they are interdicted and investigated themselves if it becomes obvious that they must have somehow been compromised by Hadaad Rabih's friends and family.
That poor 19-year old househelp he is alleged to have raped deserves to get justice from Ghana's criminal justice system - so that other cowardly men without moral compasses in this country who employ young women as househelps, will be detered from sexually assaulting them, whiles those women remain in their employ.
If the apparently merciless Hadaad Rabih did not show any consideration for his alleged victim, why does he now want consideration from the Ghanaian society that he and his ilk so clearly despise - judging by their uncalled for arrogance and the unjustifiable superior airs they put on daily in their interactions with ordinary Ghanaians?
Hadaad Rabih must be remanded in police cells - not in a hospital ward - whiles the alleged rape case against him is investigated by the police. Enough is enough. Haaba.