November 9, 2017
|
Opinions Feature Article
Letter To Returning Rwanda Student; Dr. 'Leap-Frog' Bawumia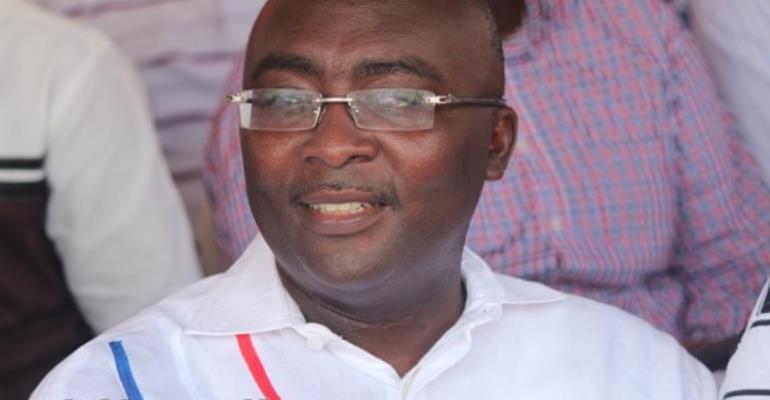 Dear Alhaji Dr. Mahamudu Bawumia, alias GPS leap frogging the US, UK, Germany & Sweden,
Greetings from Binduri.
How far now? Long time, I trust you are doing great?
Dr. Bawumia you are welcome from Rwanda, the new University of Development Studies. You came back with fire to burn your hair and you will definitely smell the scent. All is not well.
Ghana has been downgraded in the latest world business outlook report. You dropped Ghana from 108th to 120th in the latest ranking whereas Williams Ruto managed to upgrade Kenya to the 80th position, a supper jump of 12 spots jump. Incredible, isn't it? Well you're the Head of our Economic management team but you seem so clueless that makes me believe you don't even know whether the sun comes from the up or down. Coming events cast their shadows. You know why we've been downgraded? Insecurity, lies and corruption.
INSECURITY
Dr. Bawumia, the dog cannot eat the dung whilst the goat proceeds to develop rotten teeth. Hell No! The invincible forces-our new king's trusted security forces- have recorded significant and landmark achievements more than the Nana Addo- Dr. Bawumia government. They show similarities of monkeys. They look alike; the difference is that one attracts tourists whilst the other attracts GOONS and CRIMINALS.
Our security situation have deteriorated beyond reasonable doubts in just 10 months. Today, criminals are protected by Nolle Prosequi, miscreants are encouraged, criminality has been entrenched by subtle executive order, our courts and prison cells are threatened and the masses are DOOMED, of course we can't expect investors to invest in such a hopeless country. When your government was romancing the Delta forces, I told you that, if they're not severely punished, we would be doomed but you failed to listen to me, maybe because you think I'm a nobody, so are you seeing the repercussions now? I warned that those GOONS would be like hungry tigers not joining the rest of our citizens but devouring us if they're treated with kid gloves.
Investors are shying away and the trend could worsen going forward. Police Officers are shot and killed by criminals everyday whiles on duty. Armed Robbers are now operating in broad daylight and the police are rather always on the run. Do you expect foreign investors in this militarized regime? You must be joking.
LIES
Dr. Mahamudu Bawumia, the lies you've told Ghanaians since becoming Vice-President have grown more than the economy of Ghana. In your Government's 100 days in office ceremony, you lied to Ghanaians and the world that you've recorded 103 achievements and till date, we don't know where they are. The question Ghanaians are asking is; where are the 103 achievements even in 10 months? Where is our one constituency $1million? Where is our one village one dam? Where is our 50 factories you told us to expect under the one district one factory? Where is the results of the import duty you said have been scrapped? Prices of spare parts have been increased! In opposition, telling lies was always your daily meals, simply put, you lied your way to power and you still continue to spread BEER PARLOUR propaganda. But as to why you still engage in bear parlour propaganda, I wouldn't know; however, the consequences of it are that you cannot be taken serious again, investors don't trust you, Ghanaians don't trust you, your own party members except the basket of deplorables don't trust you and even flies don't trust you anymore. We have now gotten to a point where, when you greet someone good morning, the person would have to excuse you and check his time before responding because he might be responding to good morning in the evening. Do you expect us to attract investors with that?
The energy bond have bounced. You tried it on three occasions but it yielded disappointment. Have you seen the reality of governance? Your economic wizardry is under serious scrutiny now. You are a joke on many people's lips. Please redeem yourself with the knowledge from Rwanda!
CORRUPTION
Dr. Bawumia, the NPP government rode on the back of an anti-corruption campaign to win the 2016 election but after winning, what are we seeing? Daylight robbery, Nepotism, Cronyism, Create, Loot and Share everywhere. Ken Ofori Atta, issued a $2.25Billion dubious bond within 4 hours. The bond's issue was shrouded in secrecy, issued without recourse to laid down procedures and industry best practices requirements, issued without Parliamentary approval, issued without a Cabinet approval, issued without a Securities and Exchange Commission board, the Attorney General who is the principal state attorney was not aware of the legal implications of the deal. 95% of the bond was issued to Travegor G, the Finance Minister's business partner. Isn't this corruption? Isn't this Cronyism? Isn't this a create, loot and share? Business confidence would definitely shrink.
Mr. Alfred Obeng Boateng of the BUSTED BOSTING BOST BOSS fame, your puppet you placed at BOST, sold 5million litres of contaminated fuel to his own unregistered company which was unlicensed. And what have happened to him? Nothing. We're talking about contaminated fuel ooooo. Green house effect on my mind. Corruption is celebrated in this regime.
What of the MASLOC scandal? Aaahhhaaaa, one needs to pay $20,000.00 to access the Presidency and this includes foreign investors. Do you expect business confidence with this? The corruption have even engulfed our Ghana Police Service. ACP Tiwaa Addo Danquah(Mrs.) have been promoted to a CID boss and DCOP for helping to cover corruption in your government. The Ghana Police Service have a core mandate of fighting Corruption and crimes but if they resort to cover ups what then becomes of us? United Government of Corruption and Cover-ups (UGCC) is the order of the day, do you expect businessmen to invest in such a corrupt economy?
Sophisticated criminals. Don't be surprised at my posture this afternoon because there is always a moment for every boy to assume the position of a man and that is now.
Dr. Bawumia, I heard you during your launch of the Ghana Post GPS, where you ignorantly stated it is not like the United States or UK or Germany because they are stuck with old technology, we are leap frogging, we are going to GPS space technology and I said to myself, Awurade Yakubu, this man is a decorated Christmas balloon - over inflated with no substance behaving like a teenager that has found the keys to the liquor cabinet, definitely you would account for the consequences of your drunken behavior. Lo and behold, you were exposed just a day after your launch. The app is a scam, a 419 and a complete rip-off. How can you in your miserable life believe you can use 10 months to develop a technology that is more advanced than the US?
Hellooooo! Are you sure you're okay? You cannot be serious. I mean this is preposterous. We have been scammed with a free app, the earlier you retrieve our money for us, the better for you. No amount of twisting can save the sorry ass of you and your boss. President John Mahama advised you over the weekend in Cape Coast that it is a 419 app and represents an embarrassment of your boss and you like a headless chicken that has lost its way after being slaughtered needlessly resorted to insults in responding to him, accusing him of being clueless of the issue. But you know what? You were parroting, simple. Or should I say you were telling tales in your response? Tales which should be narrated to children on the TV program, Tales by Moonlight.
Dr. Bawumia, do you know you are a failure? An OVERATED CLOWN? You have incessantly screwed Ghanaians with your dumbness. The masses are terribly suffering. Poverty rate has increased. Unemployment is unimaginable. More workers have been rendered jobless than ever for political reasons. Price of fuel is touching the heavens, violence has taken over our country but you go about bribing the media to discuss KB report, isn't this witchcraft? Ghanaians cannot afford transport fares any more. Our taxi drivers are suffering, our trotro drivers are suffering, the aboboyaa drivers are suffering and graduates are suffering. Water tariffs have been increased by a whooping 75%, the cost of electricity is still higher than the cost of rent. The dollar is in a comfortable lead, prices of goods and services are skyrocketing whilst you continue to worry our ears with inflation is reducing. Inflation reducing is meaningless unless it corresponds with the reduction of prices of foodstuffs and other consumables. The reality is that things are terrible.
Your incompetence is beyond measure. The result of planting for food and jobs is army worms. Fall Army worms have consumed the yields of our farmers and that is an undeniable fact. Stop the animals farm squalor style of politics, we all know that only the pigs are now enjoying.
BORROWING TO CONSUME
Dr. Bawumia, President Mahama borrowed to construct the Nkrumah Interchange, the Kasoa interchange, the Ridge Hospital, the Legon teaching hospital, the military hospital in Afari in Kumasi, the Ashanti Regional Hospital in Sewia, the Tamale International Airport, the Tamale Teaching Hospital, the Bolga Regional Hospital, several CHIP compounds, District Health Centres, constructed the Kpong water project, the Wa Water Project, the Adenta water project, the Mampong water project and many other water projects including numerous boreholes across the country, constructed many more kilometres of roads than any other President in the history of Ghana, constructed many secondary schools, basic schools, dormitories, added more kilowatts to our national grid than any government, as well as embarked upon several infrastructural projects yet you accused him of borrowing to consume.
Can we go for a reality check now? The NPP have borrowed over GHS40billion as of June 2017, what is there to show? Jack Where Are you? I mean which serious project have you used the money for? Mr. Talking Cricket, we are now borrowing to pay salaries and that is borrowing to consume but won't dwell so much on it today, we shall revisit that soon. Workers salaries are now always in arrears, the only people who receive their salaries on time are the 110 locusts and the other barking dogs you've employed at the Presidency and other agencies.
INGRATITUDE
Dr. Bawumia, excuse me to say you are a knuckle dragging ingrate who always goes about berating the hands that once fed you. Your father used NDC money to pay your fees and trained you but you stabbed him at the back. Your first wife was always there for you when you were a nobody but you've stabbed her at the back. Hajia Aisha Saeeda, a former Ashanti regional NPP women organiser who served the NPP to the best of her energy and pocket money, you've stabbed her at the back. Hajia has a houses in Kumasi and Nima she donated to the NPP for meetings. She fell ill, spent all her money in attempt to cure herself, and when she was totally broke and sent people to you to solicit financial support for medical bills you told them the amount was so much and decided to contribute nothing to support the poor woman. I mean you couldn't even support her with a CRIPPLED CHICKEN or a PARALYZED RABBIT.
You used the late Bolewura against President Mahama but when he passed on in Accra and his family approached you to help fly the corpse to Bole, you stabbed them at the back. Former President Mahama paid the bills to transport his remains to Bole. So the question is what kind of human being are you? I entreat you to chart a new path because where you tread is too hot for a bare footed man. You can't walk on a refuse dumb without expecting to be pierced by a broken bottle. We all know Adams wife was Eve but who was his concubine?
But there is hope. Good and bad work together. If there is no Evil then doing good will not make an impact. We appreciate the evil you are doing to us, we shall learn our lessons.
Dr. Bawumia, the gods of Binduri have indicated to me to relocate from the Zanguom Daag(Long wall) pito joint to the Ghana- Burkina border at Mognori because they say your goons would come after me but before my relocation I would like to remind you of the legendary Bob Marley song natural mystic because it is relevant in this circumstance.
"Natural Mystic"
There's a natural mystic blowing through the air;
If you listen carefully now you will hear.
This could be the first trumpet, might as well be the last:
Many more will have to suffer,
Many more will have to die - don't ask me why.
Things are not the way they used to be,
I won't tell no lie;
One and all have to face reality now.
'Though I've tried to find the answer to all the questions they ask.
'Though I know it's impossible to go livin' through the past -
Don't tell no lie.
There's a natural mystic blowing through the air -
Can't keep them down -
If you listen carefully now you will hear.
There's a natural mystic blowing through the air.
This could be the first trumpet, might as well be the last:
Many more will have to suffer,
Many more will have to die - don't ask me why.
There's a natural mystic blowing through the air -
I won't tell no lie;
If you listen carefully now you will hear:
There's a natural mystic blowing through the air.
Such a natural mystic blowing through the air;
There's a natural mystic blowing through the air;
Such a natural mystic blowing through the air;
Such a natural mystic blowing through the air;
Such a natural mystic blowing through the air.
The only help I can offer a widow screaming from the concubines room is to peep through the window! That I have done. A word to a wise is in the North.
Assibid Dauda
*The Binduri Youth