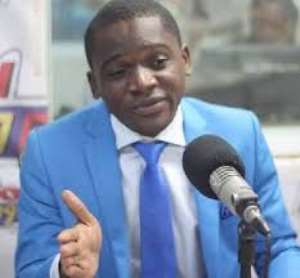 Irbard Ibrahim
Important questions related to being an expert have arisen and should come into focus in our discussion. The other day, the Spokesperson of the New Patriotic Party (NPP) flagbearer, Mr. Mustapha Hamid, described Mr. Irbard Ibrahim as a 'self-acclaimed and roadside international relations expert' who lacks knowledge of international issues and state interactions.
The NPP Spokesperson further questioned the appropriator's competence to speak on matters of international relations and security, inquiring what thesis or document that he has on international relations for him to claim to be an expert?
(See URL attached: 'Irbad Ibrahim is a 'roadside international relations expert').
The frequent reference to panelists on television shows and programs as experts is deeply troubling to some Ghanaians. However, responding to Mustapha's comments on the same platform, Irbard Ibrahim emphasized that his young age does not bar him from speaking on such critical matters, adding that he is very competent in the field of security and international relations.
Mr. Irbard Ibrahim surely is a patriotic young man who wants to serve his country to the best of his capacity, but his response left many of us flummoxed. Is suggestion being made that extensive publication, rigorous research and presentations on subject matter of interest are not part of the requirements for an individual to become an expert?
Surely, Mustapha Hamid did not intend to make anybody look a pariah and interestingly, by same token, has raised a relevant issue that affects many a panelist flaunting on television and radio programs appropriating the title as experts.
In the early stage of a profession that young Irbard finds himself in calls for enormous patience - a time to temper humility with patience, a time for a high degree of need to manage egos, a time to be calm and a time to dig deep in research and publication especially if he wants to be an expert in his field of interest.
According to the business dictionary, an expert, more generally, is a person with extensive knowledge or ability based on research, experience, or occupation and in a particular area of study. An expert can be believed, by virtue of credential , training , education , profession , publication or experience. On the other hand, an analyst is a person who reviews and examines data or information for a specific area.
In the light of the above definitions, an expert that comes effortlessly to mind in Ghana is Professor Gyima-Boadi: He has published extensively. His papers are peer reviewed. He has presented globally on his subject field and his works have been referenced by other authors (citation analysis). He is an author. His opinions and ideas have informed policy formulation and implementation. (Check him out: https://www.ictj.org/about/emmanuel-gyimah-boadi). He is an authority on his subject field and his opinions are well respected globally. Experts have a prolonged or intense experience through practice and education in a particular field.
Simply put, the number of publications on the subject matter and professional experience are quintessential for one to appropriate the title of an 'expert' and be referred to as such.
So folks, we need to dig deep in our various fields of endeavor. Let's conduct research. Let's challenge a theory. Let's present for findings to inform policy formulation or implementation.
To my understanding, what Mustapha Hamid said was in good taste, and was never meant to make anyone look a pariah nor did he want to diminish anybody's intelligence. Mustapha, however, has thrown a challenge and we need to work hard at it to see if we measure up to appropriate the title of an expert which is a laborious effort, but worth trying.
Less than that the title of an analyst or a contributor might just be, just maybe, appropriate for the many TV and radio panelists including you, Mr. Irbard Ibrahim.
Cletus D Kuunifaa
TMC Group
Can be contacted at [email protected] or follow him on twitter @ckuunifaa