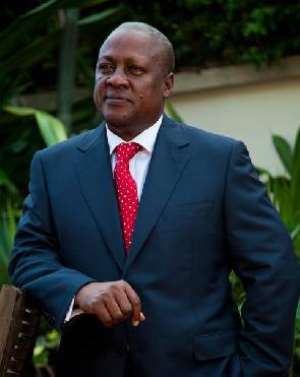 Our political leaders, past and present, are responsible for the current sorry state of our national economy; it was not too long ago that they bowed to the charms and recommendations of the starched and wonky bureaucrats from the International Monetary Fund and the World Bank and formulated policies that would ultimately prove fatal to our economy.
I will get to this later, but let me begin with the vocal opponents of President John Mahama who have spared no effort to depict him as clueless and incapable of righting the economy. Well, what else do you expect from people who are still nursing their electoral wounds?
Any lingering doubts that President John Mahama's political opponents and critics are truly concerned about the troubled economy were instantly erased by the bizarre pronouncements of Edward Akuffo Addo in London last week and the absurdly ridiculous headline on the Africa Watch magazine
The twice defeated National Patriotic Party Presidential candidate mockingly compared the fortunes of the cedi to the plight of a British soccer team, Manchester United currently going through a mediocre season. And the Africa Watch derisively branded Ghana 'The Republic of Corruption' arguing rather lamely that under Mahama, corruption has become entrenched and widespread.
Addo and the folks at Africa Watch aren't the only ones savaging Mahama for his poor stewardship of the economy. Joining the fray is a boisterous crowd of naysayers and rank hypocrites -- an insufferable head of an Accra based Think Tank, mealy-mouth academicians and some two-timing men of the cloth – who thrive on distortions, misinformation and outright fabrications.
With a sputtering economy and unemployment rates at unprecedented levels, you expect criticism to be directed at the President for obvious reasons, but when the criticism takes on partisan and tribal overtones, it loses all significance and purpose and ultimately depicts the critics as beholden to an ideology that is anathema to the country's interests.
This bunch of desperadoes never shies away from any opportunity to take a swipe at the President. Their hope is that the President will squirm under their avalanche of criticisms, throw up his hands in surrender and then proceed to lose the 2016 general elections.
Ghanaians are understandably very angry and frustrated at their political leaders; after all, unlike the business and political elites, ordinary Ghanaians are bearing the brunt of the economic downturn. They are wondering when their ordeal, the daily grind to acquire the basic necessities of life will be made much easier.
There are some hard truths about our economy that are being hidden from Ghanaians because they have been lost in the cacophony generated by the critics. The political leadership would not admit it but Ghana's economy is structurally weak, and has been for decades. The onset of our weak economy began with the overthrow of the Dr. Kwame Nkrumah's and the jettisoning of his policies that were designed to provide Ghana with the means to be self-sufficient in manufacturing, technology and agriculture.
Not unexpected, the economy has never been able to sustain a strong manufacturing base; whatever industries we had left after the ouster of Nkrumah were systemically dismantled or sold to friends and cronies of highly placed government officials. The consequence of this ill-advised and poorly- timed decision has been the inheritance by Mahama of an economy that performs haltingly.
Another hard and bitter truth worth repeating is that our economy is connected to other economies in the world. We have to trade with other countries to generate foreign exchange for development purposes. This interconnectivity, however advantageous at the same time renders our economy vulnerable to the vagaries of the wider global economy. So, any global economic downturn ultimately affects its overall performance.
One truth that many of the critics glossed over in their rush to throw brickbats at the President is our antiquated tax system. It has never been revamped or modernized despite glaring inadequacies. The system cries out for reform but stunningly, officialdom has been reluctant to tackle the problem. So, the inherent problems peculiar to the tax system persist. Ghanaians don't know how taxes are collected, except, of course, the petty traders in our markets who are compelled to give part of their daily earnings to unscrupulous tax collectors.
More crucial is the fact that no one knows for sure how much international corporations operating in Ghana pay into the national chest as their obligatory taxes because the government would not publish this vital information. It is incumbent on the Mahama administration to take a good, hard look at the tax collection system and see what corrective measures are needed to bring it into the 21st century.
President Mahama has reasserted his commitment to finding solutions to the faltering economy and he needs time to come up with concrete answers that will not only drive our economy to perform at an optimum level but also to ensure that it creates opportunities for all. This is not a time to engage in histrionics, name calling and nasty political games. Instead, it should be a time for all hands on deck, a time for maximum cooperation across the political spectrum to find out what exactly is ailing our economy and to prescribe much needed remedies.