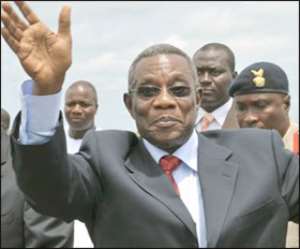 For now we are all expressing our opinion on whether president Mills of Ghana will be the candidate of the National Democratic Congress (NDC) for election 2012 or not. But that not withstanding, nobody can muffle any Ghanaian from expressing his view about who rules Ghana now or who would govern Ghana in the near future.
What is so interesting about President Mills in relationship to his candidature in 2012 is an issue which is directly or indirectly related to his physical fitness; health wise, to be a candidate again for the NDC in 2012. It must be explained that, the issue of President Mills's health in relationship to his ability to rule Ghana effectively now or in the near future was the brainchild of his own party. I hope readers would recollect Spio Garbrah's text message to founder Rawlings during the NDC Presidential Primaries which was basically centred on Mill's health.
Even though 2012 is still far in a way, the issue of whether President Mills would step aside or still show interest in politics is making rounds in certain circles basically within the NDC. It was therefore not surprising that, Alex Segbefia, the Deputy Chief of State stated authoritatively during joy fm newsfile programme on 28th November, 2009, that Mills would contest the 2012 elections.
Though it is not yet even known if the NDC would vote for Mills in their primaries or not, but Segbefia is entitled to his opinion that, Mills would contest the 2012 elections just as I am also entitled to my opinion that he would not be a candidate at all for reasons I would unveiled in subsequent paragraphs to support my claims.
Firstly, age seem even now to have caught up with President Mills and I wonder how much energy personally would be left in him to finish the current mandate, contest NDC primaries, and to face the general elections should he emerge as the candidate of the NDC. I am of the judgment that, the peculiarities and complexities of the politics and economy of Ghana needs an energetic person to handle and I think President Mills should be content with the four years he is lucky to have had in the first place and bow out peacefully in 2012!
Secondly, my analysis is that, President Mills can't win any primaries of the NDC considering the general estrangement against him mostly from his party gurus through to even the core foot soldiers. Founder Jerry John is not happy with him, Majority leader Bagbin is not happy with him, former first lady Konadu is not happy with him, challenger Spio Garbrah is not happy with him, Infact the list is an endless one. I wonder how President Mills can win primaries of his party without the support of these pillars. Hence my view that he will not be a candidate in 2012.
Thirdly, President Mills has so far divided and polarised the NDC more than he has united it since he took over the affairs of the country. Accusations that, he is ruling the country with team B ministers and communication directors who do not want to see faces of ex-presidents is all over the place. These are not good signs for President Mills and will definitely shot down any ambition he harbours to go beyong 2012.
Fourthly, Mills is dead slow at delivering the better Ghana he promised before his election as president. The only area he is very fast is, awarding himself 80percent in his first hundred days in office, very quick to set up what I will call unnecessary committees, and anxious to increases prices of fuel every three months rather than his pre election promise of reducing it to 2 new Ghana cedis irrespective of how much fuel sold on the world market. It is evident that these are not things that would boast the fortunes of President Mills in any election be it within his party or nationally.
In the unlikely event of Mills contesting in 2012, he would be unable to attract maximum votes to be President again considering the fact that, even in the 2008 elections he did not win convincingly. He won as president, leading his main challenger by less than one percent of the votes! No wonder some people call him 'accidental president' and some saying he was a beneficiary of the burning desire of Ghanaians to effect a change!
Also, it is generally believed that, president Mills is not popular and charismatic and that it was the founder of the NDC Jerry Rawlings who won the elections for him and the NDC in 2008. Infact Jerry Rawlings was seen to have travelled and campaigned more for the NDC victory than President Mills did! Perhaps, the source of the founder's frustrations at Mills performance for now, these perceptions are not good enough to give Mills the maximum support to contest for election 2012
So my view is that he will not be privileged to lead the NDC again especially so as the party has a more charismatic Vice President in John Mahama and an energetic Spio Garbrah among others, lacing their boots to play the political football in the NDC Presidential primaries before the 2012 elections.
Another thing that will also pose as a huge challenge to President Mills is that, he will not have the unique luxury to be "Swedru declared" as the NDC candidate for 2012.
In the midst of the reasons given above it is my view that, it will be in the interest of President Mills to retire peacefully after his term of office in 2012 and enjoy his ex-gratia as former President than dabble in further politics. He will attract lots of respect if he is able to do that, but that will depend on his ability to even fulfil his endless pre election promises to Ghanaians before 2012.
A word to the wise it is said is enough!
Akilu Sayibu, UK
Email: Akilu [email protected]
Development / Accra / Ghana / Africa / Modernghana.com