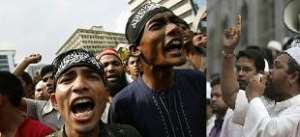 Uttara is one of the residential areas in Bangladeshi capital Dhaka, which houses mostly upper-middle class and middle class people. At House No. 4, road no. 18, sector no. 7 in this area, one Mohammad Bayezid Khan Ponni aka Selim Ponni, claiming he to be 'imam-uz-zaman', by placing himself just behind the prophets is continuing to operate an Islamist militancy group named Hizb Ut Towhid (HuT). This extremist outfit was established in 1994 at Korotian village under Tabgain district in Bangladesh.
Bayezid Ponni although operates HuT from his Uttara residence, there are now a number of branches of this notorious militancy group in a number of places in the Capital as well as other parts of the country. At Dhaka's New Eskaton Road area, Selim Clinic, which is located at the ground floor of a 4-storied building as well as two florist stores named Ferns & Petals are used as the 'outlets' of Hizb Ut Towhid in collecting members and fund. Meanwhile, this group has extended its activities within Barisal, Feni, Kushtia, Madaripur, Tangail, Gazipur, Meherpur, Jhenidah, Noakhali, Khulna, Chittagong and Narshingdi districts under the patronization of its active members and donors. Funds of this group is collected in the name of 'Zakat' (Islamic donation).
The HuT chief, who left Bangladesh after the independence and returned in the '80s, published a book titled "This Islam is not at all Islam" in March 1996, which the government banned on May 10, 1998. He also wrote another book named 'Dazzal', where he said that Jews and Christians are the evils who should be eliminated by the Muslims. Besides, there are several leaflets and booklets on the HuT ideologies and objective. Followers of HuT do not believe in democracy and traditional government system.
HuT activists use iron hammer and tobacco dust when they attack. They used a hammer to kill one Abdul Malek in Pagla Bazar in Fatulla, Narayangaj on September 26, 2003 when local devotees protested the HuT activities. Followers of this extremist group term Azan as "bark of dog" and do not say prayers in mosques. They consider Islamic greetings or Salaam as "bad practice".
Mahbub Ali, Kushtia district HT ameer, has been working along with 40/50 activists. Sohrab Hossain Khan of Sakukuthi village in Gouranadi upazila of Barisal, an absconding accused of a murder case, has also been leading HT activities from hideouts.
With the fund received from the donors, Hizb Ut Towhid is gradually gaining military strength by recruiting and training their own 'suicide squad' to 'fight against evils' and 'liberate the world from the grips of devils named democracy' and establish Islamic rule under the directives of Bayejid Ponni.
Mohammad Bayezid Khan Ponni aka Selim Ponni terms working women as and women in politics as 'prostitutes' and gives his own 'Islamic Code' for men to marry any number of wives. His interpretation is, "women are created only for sexual pleasure of men and this is their only task".
He projects Jews and Christians as true evils and preaches killing them or raping female members of Jewish and Christian societies as "divine task". He also teaches his followers to wage any type of offensives on the West.
Bayejid Panni considers secularist forces as enemies of Islam and encourages his followers in killing seculars for "buying heaven". In his interpretation, Jamaatul Mujahedin Bangladesh (JMB) and other Islamist militancy groups are "sacred forces of Allah" and he terms Shaikh Abdur Rahman as the "Hero of Allah".
Although Bangladeshi intelligence agencies are continuing to gather information on this extremist outfit, there is visibly no sign from the government putting any ban on its activities for reason unknown. Meanwhile, in a number of places in the country, HuT men were arrested by the members of law enforcing agencies for their suspicious activities.
Moreover, it is reported that, a large number of Hizb Ut Towhid men are already going to a number of Western nations including United States and they are actively working there in collecting members as well as getting prepared for "revolution against Jews and Christians".
For the last few years Hizb Ut Towhid has been carrying out secret operations in the name of 'dawat' in different parts of the country, especially in the southern region. In some cases Bangladeshi law enforcing agencies also arrested some activists of different Islamic organizations during their suspicious activities.
For instance, law enforcers arrested a few Hizb Ut Towhid activists in Bhola in September 2008 for their suspicious movement.
Commenting on HuT, an officer of Bangladesh Police said, "We're closely monitoring their activities. The nature of their activities in Bhola suggests the organization might have some activities similar to those of banned militant organizations."
He said the outfit seems suspicious as Hizb Ut Towhid's activities have similarity with the activities and groundwork of banned militant organizations.
Earlier, law-enforcement agencies detained a number of thugs of this Islamist organization from Barisal, Chandpur and Satkhira.
Besides, Hizb Ut Towhid operatives have been carrying out their activities in full swing in Patuakhali where they even have a temporary camp set up at the residence of an assistant teacher of a girls' high school in Mirzaganj upazila.
The organizations' activities surfaced early 2008 when some of its operatives were seen distributing books and leaflets propagating Islamist militancy among students of the school.
Hizb Ut Towhid in its different publications being distributed among its targets is trying to teach them that jihad or military program or armed struggle is a must to establish the rule of Islam.
The organization campaigns for armed struggle using the verses of the holy Qur'an. "… (if anyone) leaves jihad or armed struggle, they shall not be accepted to Allah as a momen (devout)," reads a publication of Hizb Ut Towhid titled "Islamer Prokrito Salah" (Real Salah of Islam).
In the book Hizb Ut Towhid says the Muslims as a whole are a military nation. The whole nation is a military force; each and every Muslim [man and woman] is a soldier, a Mujahid and a warrior.
"The training of this military force is called Salah," the book reads.
"As long as the government allows such campaigns or activities and does not prohibit such propaganda, we cannot consider it as an offence," observes a top-level official of a law-enforcement agency.
By: Sunita Paul