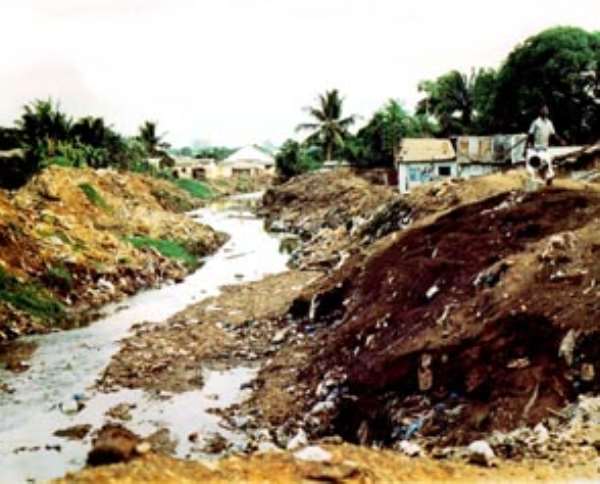 Rattling along the streets of Accra, I am squashed into the back corner of a tro-tro, sucking contentedly on my strawberry Fan Yogo. When every last drop is squeezed out of the pink wrapper, I fold it in two and, without a thought, place it in my handbag to take home to a dustbin.
Sitting beside me, a suited businessman is glugging back his pure water. Plastic sachet empty, he promptly screws it up and, without a thought, throws it out of the open window. It flies off to join the thousands of other plastic sachets that fill up the gutters, cover the tro-tro parks and make Accra such an unpleasant environment in which to live and work.
The litter-strewn streets and smoldering mounds of household waste that can be found at every corner of Accra are something that cannot fail to strike a visiting Western European.
Indeed, born and bred in a society where to drop even a peanut will usher forth menacing glares from passers-by, it is somewhat shocking to discover in Ghana an attitude towards littering, which is so apathetic. Wading through a quagmire of rotting vegetables, plastic sachets and mud in the Kaneshie tro- tro park or working beside a pile of fetid, festering garbage does not seem to repel the residents of Accra. Yet, it is from such improper disposal of waste that illness and yet more suffering emanates.
Indeed, in a city where the problem of littering and waste disposal is so out of control, it is of no surprise that diseases such as malaria, cholera and typhoid proliferate.
Curious to find out what exactly is being done about the situation, I decided to pay a visit to the waste management unit of the Accra Metropolitan Assembly (AMA) to speak with the Senior Environmental Health Technologist, Mr. Samuel Kpodo.
AMA is the sole institution in Accra whose responsibility it is to deal with solid waste and nobody, I was to discover, is more aware of the serious waste problem that confronts Accra than the staff of AMA. So why is more not done by this institution to address the problem? The answer is simple and perhaps obvious.
It is lack of money; and there is very little that even the most efficient and committed of institutions can do with insufficient funding.
At present, ¢2.5 billion are being spent every month on solid waste management in Accra, but according to Mr. Kpodo, if the AMA is to be able to satisfactorily perform its responsibilities, this sum needs to be at least ¢3 billion. Skip trucks need to be doubled in number and even the fifty-four that AMA does own, are in need of replacement due to their age and unreliability. The situation with respect to central waste containers has even deteriorated over the last few years, their numbers diminishing from 600 to only 300, as the metal has rusted and the containers have become worn out. AMA, however, is the first to admit the shortcomings in the system.
As Mr. Kpodo related, "when visiting most places in Accra, you will find the containers very full, even overflowing," but with insufficient money to purchase more containers and skip trucks, there is little that can be done.
Currently, the AMA receives its funding, on the one hand from internally-generated funds and on the other, from the Common Fund of the Government. Evidently, this is not sufficient and plans are being discussed to increase revenue by making all residents pay for waste collection.
"Without a doubt, this is the way forward for AMA," insisted Mr. Kpodo. Residents in the first and second-class residential areas are already paying for their weekly house-to-house collection, but these residents constitute only 20% of the total population in Accra. For the remaining 80%, waste collection is at present a free service.
In these third-class residential areas, such as Nima and parts of Teshie, where income is low, there is no house-to-house collection because the residents cannot afford the appropriate containers in which to declare their waste. One has to ask, therefore, how such residents are going to be able to afford a waste collection levy, when they cannot even afford the containers in which to store their waste.
Even many households in the second-class areas cannot afford the levy and, instead, are avoiding the fee by illegally burning or burying their waste.
For those living in the third-class areas, it is a Central Container System that operates, with residents having to carry their waste, in any container they can find, to deposit it in the nearest central container, a distance, Mr. Kpodo informed me, between 50 and 100m.
It is largely children who have to carry out this arduous and unpleasant chore and, more often than not, when the distance becomes too great, the waste never reaches the containers and is thrown into the gutters instead. "This is the biggest problem AMA has in the system," said Mr. Kpodo.
"If the waste does not reach the containers, AMA cannot clear it," he explained. Why? Because although workers are employed at the sub-metropolitan levels to clean up the abandoned waste, there are not enough, their tools are inadequate and AMA does not have the money to pay for more staff.
Occasionally, when an area has become particularly bad, AMA will organize a clean-up exercise, providing the necessary vehicles and containers to clean the area with the assistance of the residents. However, insufficient resources mean that this is not yet a regular undertaking.
The problem with respect to littering is perhaps even greater, since any solution will require a radical change in the attitude of Ghanaians. Certainly, it is difficult to condemn their proclivity to littering when the litterbins simply are not there, nonetheless, I find it strange that a people so proud of their nation and so welcoming to foreigners, should not be concerned by and even ashamed of the dumping ground that their capital city has become.
Mr. Kpodo enlightened me that increasingly, litterbins, donated by NGOs and advertising agents, are being installed in public places, in the lorry parks and markets, but I fear that they are not being used. Standing in the queue, waiting for my tro-tro home from work the other day, I noticed, hidden away at the back of the Circle tro-tro park a row of litterbins.
Surprised by my find (I had previously not seen a litterbin outside of Barclay's Bank), I relinquished my place in the queue to investigate. All the bins were empty and, I suspect, unused. Certainly, the more strategic placing of litterbins would help, but it seems clear to me that the public is in urgent need of education. Perhaps only when people fully understand the dangers and health implications of plastic waste and littering, will the litterbins take on their assigned purpose.
Yet at present, initiatives to educate the public are few and far between. Mr. Kpodo spoke of a couple of forums that have been organized in the lorry parks and of a handful of schools which have been visited, but as yet, there is no serious programme in place and again, there are few available funds to make possible such a programme.
The Japanese Government has recently released to the AMA some money for plastic waste management, which is helping them visit a few selected schools, but it is needless to say that greater funds are wanting.
My final question to Mr. Kpodo concerned the issue of recycling. In short, does any recycling take place in Accra? By now, however, I knew very well what the answer would be. The AMA cannot afford the machines to turn plastic waste into reusable materials on any significant scale. A small number of collection points in Accra do exist, where it is possible to sell your plastic waste, ¢2,000 per kilogram, for it to be transported to small recycling plants and be processed into pellets, raw materials for plastic industries to buy.
However, since this recycled raw material is so much more expensive than imported materials, the patronage is very poor.
For the moment, therefore, waste in Accra is useless material. All that the AMA can do is to bury it at landfill sites. Yet even this is proving an impossible challenge. The AMA has neither the financial, material, nor human resource to carry out its job adequately and the result is a city in which the problem of waste is fast spiraling out of control.
AMA needs the cooperation of the people. It is the responsibility of all residents to help keep their city clean and the extra inconvenience of finding a litterbin for one's waste is something that Ghanaians have to learn to accept.