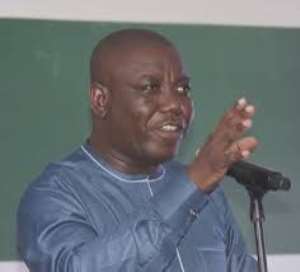 Hon. Isaac Adongo
A video circulating on social media has shown President Akufo-Addo in a very agitated mood talking down to some Catholic Bishops and instructing them to condemn President John Dramani Mahama for sharing a tweet on twitter.
The tweet said to have been originated by Bolgatanga Central Member of Parliament, the Honourable Isaac Adongo was said to have tagged some operatives of the Akufo-Addo government as "Sakawa Boys" and called them "Akyem Sakawa Boys" in relation to the Akufo-Addo government's incorporation of a state-owned company called Agyapa Royalties, domiciled in the British protectorate of Jersey island in the British Channel Islands.
The island of Jersey is a tax haven and has stringent laws and regulations that seek to protect businessmen and companies which have their businesses there to hide their company information and dirty money from scrutiny by the public. Jersey is a place for crooked businessmen and companies with murky business dealings to hide their ill-made money. It is virtually impossible to obtain any information on a company incorporated in Jersey if you are not an executive of the company.
The incorporation in Jersey of Agyapa Royalties said to be owned a hundred percent(100%) by the Ghanaian state has evoked a lot of emotional sentiments among large sections of Ghanaians, home and abroad.
Why?
The answer is simple.
The company, Agyapa, is a special purpose company which is to take over the management of all of Ghana's gold royalties and equity holdings in producing gold mines from now until thy kingdom come, because the agreement has no expiry date. The project to monetise Ghana's equity holdings and royalties from operating gold mines is termed as the "Kingdom Project", by the promoters of the plan including the white attire wearing Ken Ofori-Atta, Finance Minister.
So, for such a company belonging to the people of Ghana, to take over the country's shares and royalties accruing from gold mining operations to be incorporated in Jersey a foreign country, where Ghanaians will not have the opportunity to freely obtain information about its operations, does not sit well with most Ghanaians, particularly the National Democratic Congress and its minority in Parliament.
Ghanaians are a fiercely nationalistic people who would not hesitate to protect their heritage and not allow it to be sold for a pittance or allow themselves to be blatantly cheated out of their common heritage.
Unfortunately for President Akufo-Addo, those at the forefront of getting the company Agyapa incorporated in the secret tax haven of Jersey are all his very close relatives in his government. Foremost among them is Mr Kenneth Ofori-Atta, Finance Minister and a direct cousin of President Akufo-Addo. Then there is Gabriel(Gabby) Otchere-Darko, said to be an Accra based Lawyer, whose law firm, African Legal Associates is one of the Transaction Advisers for the project in collaboration with the British law firm Chase and White. Now Gabby Otchere-Darko like Kenneth Ofori-Atta is a Cousin of President Akufo-Addo. President Akufo-Addo and his cousins are from the ancient Eastern Region town of Kyebi and their ethnic group is the Akyem Abuakwa.
So now you can understand why and how Honourable Isaac Adongo's tweet would zero in on Akyem. "Sakawa" is a Ghanaian term for underhand business dealings by young people, who are sometimes called "mafia" by their peers.
The nature, location and modus operandi of businesses on the Island of Jersey evokes business dealings like "sakawa"
"Sakawa" is certainly not a complimentary accolade for anyone and no one in Ghana likes being tagged with it. That is why President Akufo-Addo is angry at President Mahama who retweeted Hon. Adongo's message.
But why should President Akufo-Addo be angry this time because "Sakawa" has been associated with some members of his family and ethnic group?
This question is pertinent, because, in the most recent past when members of President Akufo-Addo's party, the New Patriotic Party made similar ethnically sensitive or derogatory statements, he did not seem to care to just condemn them.
The case of Ms. Ursula Owusu is very clear in the minds of Ghanaians. Soon after the 2012 elections which Akufo-Addo lost but refused to accept, Ursula Owusu now Akufo-Addo's Minister of Communications mounted a political platform and called President John Mahama a THIEF; "Dzulor" in the Ga language at a party rally at Taifa a suburb of Accra. Mr Akufo-Addo then an opposition leader of the largest opposition party did not find it prudent enough to reprimand his darling girl Ursula.
The worst of it was Mr Akufo-Addo himself calling President John Evans Atta Mills "Professor Do Little" in a speech he delivered on May 20, 2009 in Accra. He did not stop there. On another occasion he called President John Mahama "Simpa Panyin." The term "Simpa Panyin" is a derogatory Akan phrase meaning a useless old (elderly) man. He did not find time to reflect and to correct himself by way of apology for that unwarranted tagging of a sitting President.
At another time, Ursula Owusu said of President Mahama and educated persons of northern ethnicity that they are fit for being only goat and cattle herders save because they were lucky to have had free education from President Nkrumah. Mr Akufo-Addo did not find this insulting enough to speak against.
There was occasion when Mr Osafo Maafo Akufo-Addo's Senior Minister told Ghanaians at a NPP seminar at Koforidua that only persons from five resource-rich regions of Eastern, Ashanti, Western, Central and Brong Ahafo deserve to be President of Ghana. Meaning that the rest of us including President John Dramani Mahama who are from the other regions which they regard as resourceless, Do NOT deserve to go near the presidency of Ghana. When a Journalist confronted Mr Akufo-Addo with the tape recording of what Osafo Maafo said, he replied that he was in tacit agreement with Osafo Maafo because what he said made sense.
The most disheartening was that the Catholic Bishop of Asante Mampong, Bishop Osei Bonsu publicly insulted the intelligence of President John Mahama when he said that President Mahama lacked common sense in granting asylum to the "Guantanamo Two". These were two innocent Yemeni nationals wrongly detained at the Guantanamo Maximum detention camp by the Bush government for whom the Obama government had sought Ghana's help to free them.
No President in Ghana's history has suffered such abuse as President John Mahama. Yet he kept his cool and never went acomplaining to anybody.
We have not forgotten the subtle insult of Professor Martey the former Moderator of the Presbyterian Church of Ghana when he cried in church one Sunday, "Nyansafuor eeeeeiiiiii mo wor hen?" Meaning where are the wise men? Insinuating that President Mahama and his government are unwise or fools ruling this country.
It is pathetic, the level of insults Mahama endured at the hands of the NPP and supporters and sympathizers of Akufo-Addo. He carried his cross like Christ.
Constantly, President Akufo-Addo has proven to be a very disingenuous person who does not seem to realize that he is the President of the whole of Ghana and of Ghanaians. He has proven that he is a President for himself, for his family, friends, cronies and even for former concubines. It is his own interests first and foremost that are of paramount concern to him, followed by those of his family, friends and cronies.
Why is this so?
Increasingly so, Akufo-Addo has come through as a very cynical person. In the recently concluded voters' re-registration exercise, a lot of violence, both his government-sponsored and NPP party sponsored in many places were targeted at Ewes and people of Northern descent across the country. President Akufo-Addo has pretended he has not heard of a single incident of violence in this country. When he was confronted in Kumasi of the firing of a gun by his Minister for Special initiatives, Hawa Koomson into a crowd of registrants in Kasoa just a stone throw from Accra, President Akufo-Addo said he had not heard. What a President.
Then he ordered soldiers and other security operatives into the Volta and other Eastern border regions to intimidate Ghanaian citizens from registering to vote in the December elections. Now he is going into those same regions asking the people his government has so shabbily treated to vote for him. How disrespectful of him. When his bosom friend K. T. Hammond said that Ewes are Togolese and not Ghanaians, Akufo-Addo says he has not heard. When a student of Wenchi Methodist College of Education was brutally murdered by the brother of the Akufo-Addo appointed District Chief Executive and the NPP Parliamentary candidate for the Banda constituency, as a result of the violence which attended the re-registration of already registered voters President Akufo-Addo turned death ears and blind eyes to the sordid deed. The President of the whole country did not even send a simple message of sympathy to the bereaved family for the loss of a young man in his prime in such a tragic manner because of a needless reregistration of voters.
With all the above happenings which Mr Akufo-Addo told the whole country he had not heard, how come he has heard a quietly posted comment on Facebook or twitter by his opponent John Dramani Mahama?
If Akufo-Addo's behaviours do not smack of disingenuity and disrespect of other ethnic groups in the country except his own, then what are they?
Increasingly, Ghana is being split apart by the misrule of Akufo-Addo. Past Presidents fought very hard to keep Ghana together as one united country. Ours is an ethnically diverse nation that needs tact and tolerance to keep together and it is sad that no other person than the President of the Republic who is leading the charge to split us apart and has set us against each other. "We are a multicultural, multiethnic pluralistic society where people's sensibilities must be respected" "Democracy does not mean only a few are liked and recognized in plural societies!" - a couple of quotes for your digestion Mr. President.
The dangers Akufo-Addo's tribalistic misrule portend for us are no joke and we must rise up to the occasion on 7th December, just three months away, to rid ourselves of Akufo-Addo and his nepotistic, corrupt self-seeking government.
That chance beckons us now. Let's rise to the occasion and take our chance when this tide serves on December 7th, or we lose our live's ventures.
God be our helper.
Eric Ametor-Quarmyne
Communications Consultant