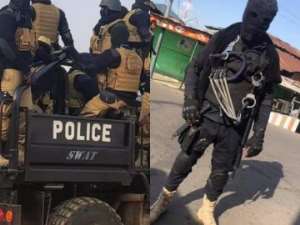 Ayawaso West Wuogon bye-election in 2019
"The Ides of March" is the 15th of March in the old Roman calendar in the then Roman empire. It was a day of catastrophe; the date on which in 44BC, Julius Caesar, one of the best known of rulers of the Roman Empire, was assassinated at the Theatre of Pompey, in Rome, through a conspiracy hatched and led by Senator Marcus Brutus and his co-conspirators - Gaius Cassius and Decimus Brutus, among others.
This event led to a bitter civil war with the empire divided into two between supporters of the conspirators and those against the brutal assassination of their popular ruler Julius Caesar, until Augustus Caesar re-established central authority to stabilize the empire.
I dread "the Ides of March" a catastrophic event on the 7th of December, 2020, the date for the election of a new President and a new Parliament for the Republic of Ghana, because ominous clouds of impending catastrophe emanating from state-sponsored electoral violence, akin to what was visited on us on 31st January, 2019 at Ayawaso West Wuogon constituency in Accra, loom large over our country and our democracy and are too threatening to be ignored.
I dread the "Ides of March" on December 7, 2020, as the day on which our cherished democracy, which we have carefully nurtured for the past 27years shall be MURDERED on the altar of a corrupt and failed President and government seeking to perpetuate their misrule on our beloved nation, Ghana.
Any attempts to deny citizens their right to elections which is the heart and soul of democracy is certain to stoke extreme emotions and passions that may result in undesirable outcomes for the country. Citizens worship the right to freely choose those whom they prefer to rule them. Denial or attempts to pervert their constitutionally guaranteed rights evokes human passion in a manner unlike any other human emotions, except perhaps religious beliefs.
In Ghana, this is the fourth time in our sixty-three years of nationhood that we are trying to cling onto democracy as our preferred system of governance. And though not a perfect system, like all human endeavours, democracy is generally acknowledged as the best of all governance systems if practised according to the laid down rules and regulations agreed upon by the citizens of a given country.
We started in 1951 when we were granted self rule by our colonial rulers of Great Britain under the Osagyefo, Dr. Kwame Nkrumah, who went on to lead us to full independence in 1957. Our first experience at democratic rule was however abruptly truncated in 1966 when a combined military-cum-police coup d'etat led by then Colonel Emmanuel Kotoka and Major Akwasi Amankwa Afrifa overthrew the government of Dr. Kwame Nkrumah and his Convention People's Party(CPP).
Since the coup d'Etat of 1966, we have had two more successful coup d'Etats that overthrew democratically elected civilian governments in 1972 and 1981. That is why our present attempt at democratic rule is termed the Fourth Republic.
The 1979 uprising of junior officers and other ranks of the armed forces which overthrew the military government of Supreme Military Council of Generals Ignatius Kutu Acheampong and Frederick Kwesi Akuffo, resulting in the formation of the short-lived Armed Forces Revolutionary Council government was a unique situation of its own, with the military rising against a military government.
So, since 1992-1993 when we boldly took steps back to multi-party democratic dispensation, some twenty-seven years ago, we have been extremely careful not to falter again like former times.
The First Republic lasted for only six years(1960-1966) though our first attempt at self rule lasted for 15years (from 1951 to 1966).
The Second Republic lasted for only 27months from 1969 to 1972 while the Third Republic did not fare any better. It also lasted for only another 27months from 1979 to 1981.
So far, the Fourth Republic which we instituted on 7th of January 1993 with President Jerry John Rawlings as our first President, has been the longest lasting of our four attempts at ruling ourselves through multi-party democratic rule.
Because of our failures of the past times, and in our determined effort to make democracy work for us this time, we as a people from across the political divide have been determined to make a success of our democratic experiment this time around. As a result, the Fourth Republic has endured till now.
So, the ship of state has held steady on an even keel under democratic rule for the past 27years captained at various times by President Jerry John Rawlings from 1993 to 2001, President John Agyekum Kufuor(Kofi Diawuo) from 2001 to 2009, President John Evans Atta Mills from 2009 to 2012 and President John Dramani Mahama from 2012 to 2017. These four past Presidents have kept faith with the people's aspirations and wishes holding our democracy in their capable hands like an invaluable delicate piece of art work, that must not be let to fall, lest it got shattered and completely destroyed forever.
They discharged their responsibilities to us honourably and faithfully and kept our aspirations for democracy intact for these 27 years.
But since 7th of January 2017, when President John Dramani Mahama the fourth President of the Fourth Republic handed over the office of President and a peaceful and united nation to the fifth President, Nana Addo Dankwa Akufo-Addo, there have been a number of very worrying developments in our country and in our democracy which have become the concern of many Ghanaians from all walks of life, some of which we shall look at presently.
VIOLENCE AT THE PRESIDENCY:
The first disturbing incident which occurred on the very first full working day of President Akufo-Addo, on January 9th, 2017, at the presidency, Flagstaff House, was the assault of a senior police officer working at the presidency since the tenure of president Kufuor and had been maintained by Presidents Mills and John Dramani Mahama. ASP Nanka Bruce was brutally assaulted by hoodlums of the President himself - the invisible forces. When a video footage of the briggarnt's incident surfaced in public, state security personnel who manned the closed circuit television security installation at the Flagstaff House were severely punished with several weeks incarceration in military guardrooms. The identifiable culprits of the dastardly act, members of the President's private security, the invisible forces, have never been punished for their dastardly act to date, allowing impunity to fester.
REMOVAL FROM OFFICE OF EC CHAIRPERSON:
Then came the most devastating assault on our democracy, the orchestrated removal from office of the Chairperson of the Electoral Commission.
Ms Charlotte Ama Osei's handling of the 2016 elections which brought Mr Akufo-Addo to power was above board and won the admiration and praise of President Akufo-Addo, Ghanaians, international observers of our elections and interested collaborators worldwide.
But, most surprisingly, she did not find favour in the eyes of Mr Akufo-Addo for long as he deployed all sorts of machinations, and subterfuge and through the collaboration of the then Chief Justice, a relative of the President's, got Charlotte Osei and her two deputies removed from office on flimsy charges of violations procedures but not on corruption or any similar charges, that had to do with her core duties of managing elections of our country.
Following his successful removal of the Chairperson of the Electoral Commission and her two deputies from Office, President Akufo-Addo went ahead to install known members of his political party, the New Patriotic Party(NPP), Ms Jean Mensa and Eric Bossman Asare at the Electoral Commission as Chairperson and deputy, in an Electoral Commission that must be politically neutral. All protestations against President Akufo-Addo's politicization and compromising of the neutrality of the Electoral Commission fell on his deaf ears.
STATE SPONSORED VIOLENCE:
Then the whole world was taken aback when on 31st January, 2019, before the full glare of live television cameras, President Akufo-Addo's hoodlums of the invisible and delta forces dressed in uniforms of national security and armed to the teeth and provided with commandeered Ghana Police Service vehicles stormed an on-going bye-election at Ayawaso West Wuogon constituency in Accra and in broad daylight assaulted members of the opposition National Democratic Congress who had congregated at the residence of the parliamentary candidate, and also, peaceful citizens who had queued at polling stations to cast their votes. Several innocent members of the NDC and the general public were wounded and had to be hospitalized, some needing several surgeries and long stays at hospital at great cost to the party and their families to save their limbs and life. President Akufo-Addo cared less about the innocent injured citizens and did not visit the afflicted even once to condole with them for the whole period they remained hospitalized.
The President who had announced to the world that the election was peaceful without incidents even as citizens were brutalized by his private army, left the country and saddled his Vice with the responsibility of dealing with the mess his hoodlums had created.
The unbearable public outcry left the government with no choice than to set up a commission of enquiry to investigate the matter. Horrible tales of brutalities against law abiding innocent citizens were told to the bewildered country and the Commission made copious recommendations and proposals including sanctions against the Minister of State in charge of National Security, Bryan Acheampong and the disbandment of the President's hoodlums stationed at National Security HQ. Mr Akufo-Addo has refused to implemented the well reasoned recommendations of the Commission, chaired by a respected former Chairman of the Commission for Human Rights and Administrative Justice (CHRAJ) and one of UN appointed Judges for the Rwandan Genocide Tribunals, Emile Short, and a respected Professor of Law, Henrietta Mensah Bonsu. The identified culprits are walking our streets free men with audacious impunity.
ACTIONS OF THE EC:
Right from the get-go, the Akufo-Addo appointed partisan Electoral Commission officials, particularly Jean Mensa and Eric Bossman Asare considered themselves as appointed to carry out a purely partisan assignment and carried themselves as above the law and exhibited postures that were completely at variance with the conduct of officials that must be impartial in the discharge of their duties as arbiters in highly competitive national electoral contests.
They signalled that they did not wish to listen to anybody in the discharge of their duties, claiming constitutional independence.
The Akufo-Addo appointed partisan Electoral Commission set about to change the existing voters register with which President Akufo-Addo won the elections in 2016 in such "grand style". That scheme was strange to most observers of the Ghanaian electoral scene, because, the register was changed from manual to biometric in 2012 incorporating electronic biometric fingerprint verification features for election management. Finger prints are noted as the most unique and distinct identifiers of human beings, as no two persons on earth have ever been known or identified as having identical finger prints; not even those of physically identical twins.
Most Ghanaians were apprehensive of the exercise because it was feared that the Akufo-Addo appointed partisan Electoral Commission officials were up to some trick. Even in the face of raging coronavirus pandemic with infections rampaging in the country, Mr. Akufo-addo and the EC cared less and went ahead to force citizens to participate in a mass registration exercise, that led to spikes in the incidence of the coronavirus disease in the country.
VOTER SUPPRESSION:
Fears were further heightened when the United States Embassy in Ghana in its report on human rights in the country, in 2018, reported to its State Department that the scheduled re-registration of voters in Ghana was to suppress votes in the NDC's strongholds, particularly in the Volta Region.
The Americans' prophecy was to come true, when Just before the voters registration could start, hordes of Ghana Armed Forces personnel were deployed to the Volta Region in what was said to be an exercise to seal off Ghana's borders with neighbouring Togo to prevent Togolese with coronavirus infections from infiltrating into Ghana.
That explanation turned out to be a ruse as the soldiers turned their guns on innocent citizens of the Volta, Oti, North East and Upper East Regions, harassing and intimidating indigines of these regions from registering to vote in the upcoming December election. The Americans were right after all.
What really confirmed a very determined effort on the part of President Akufo-Addo and his government to suppress votes in perceived strongholds of the opposition NDC was the deployment of soldiers and NPP hoodlums dressed in military uniforms to inland constituencies in Ashanti, Bono, Ahafo, Western and Western North regions where there were large numbers of Ewes and persons of Northern descent who are perceived to be predominantly NDC supporters or sympathizers.
Numerous pictorial, video, audio and media reports as evidence abound on social media and in the mainstream media, of innocent citizens being brutalized, whose only crime was that they had wanted to register in order to vote on 7th December, 2020. Deaths and destruction of properties have resulted, as was the case in Banda Ahenkro, Dormaa West, and Adjumako in the Central Region.
In all these brutalities being visited on citizens across the country and attracting the ire of concerned citizens including the incident at the nearby town of Kasoa where a Minister of State, Hawa Coomson went to fire a gun discharging live ammunition into a crowd of registrants, the President of the Republic, Addo Dankwa Akufo-Addo claimed publicly in Kumasi at the Muslim religious ceremony to celebrate EID, that he had not heard of a single incident of violence during the whole registration exercise in the country.
He has conveniently chosen to close his eyes and ears to all the violence being perpetrated by his armed vigilantes, and hooligans infiltrated into the armed services because he endorsed maltreatment of fellow citizens, so long as those wicked activities inured to his electoral fortunes.
While soldiers and other security operatives were deployed by President Akufo-Addo into the Eastern border regions of Volta, Oti, North East, and Upper East and were seen openly harassing innocent citizens and preventing them from registering as voters on the pretext that they were not Ghanaian citizens, those soldiers deployed to the Western border with the Ivory Coast where the President's party (NPP) controls the constituencies, were seen in videos helping Ivorians to freely cross the border and to register as Ghanaian voters.
In the pictorial and video evidence freely and publicly available on social media, National Democratic Congress registration Agents and members were the clear victims with wounds and bodily injuries inflicted on them by New Patriotic Party members and supporters and their well armed vigilante groups with the support of their hoodlums in the regular security services. On a number of occasions regular security men looked on hopelessly as NDC party agents at registration centres and registrants suspected as being NDC supporters and sympathisers were brutalized by NPP sponsored vigilante groups and machomen.
Why won't I dread the 7th of December, 2020, when such brutalities are visited on poor citizens merely wanting to register in order participate in the more important and contentious event of voting for a President and Parliamentarians of their choice in December?
This day, the 7th of December, 2020, is the day Ghanaians are scheduled to go to the polls to vote in this year's general elections to choose a new President and a new Parliament to rule us for another four years until 2024.
The stakes are high indeed. The two main protagonists in this election are former President John Dramani Mahama of the National Democratic Congress and incumbent President Addo Dankwa Akufo-Addo of the New Patriotic Party.
There is a point to prove in this election even more than it was in the 2016 election that brought Akufo-Addo to power.
Both Akufo-Addo and John Dramani Mahama have had four years to be President of this country and therefore there are clear records of their performances, achievements and failures for Ghanaians to judge them on.
But more importantly, it is time for Akufo Addo to account to the Ghanaian electorate for his stewardship during these four years, that he has been President of Ghana.
If citizens would be free to exercise their judgment and franchise, then there should be no reason for the harassment, intimidation, violence and deaths that have characterised this registration exercise, particularly in the strongholds of the opposition National Democratic Congress across the country with the strong connivance of the Mr Akufo Addo and his government.
The reason for my fears is that President Akufo-Addo and his government are bent not to allow free, fair and transparent elections on a level playing field to take place. They have amply demonstrated this during the just ended voter registration exercise across the country, through intimidation, harassment, violence and killings of innocent citizens.
If this level of violence as amply demonstrated by visual evidence can be perpetrated on opposition party supporters during a mere registration exercise, what can't and won't be done to them on election day on the 7th of December, 2020, when they attempt to cast their votes which may result in the defeat and removal of Akufo-Addo from office as president?
This is the first time in our 27years of practising multi-party democracy in the Fourth Republic (since 1993) that such violence has been visited upon poor citizens whose only crimes were that they had wanted to register in order to exercise their constitutionally guaranteed rights to vote in an election in order to freely chose a President and a government they prefer to rule them.
7th December, 2020 is the real deal. It is the day of reckoning. So if such violence as we have witnessed during this registration can be perpetrated on opposition party supporters for wanting to merely register, what won't be done to prevent them from voting?
President Akufo-Addo and his government have monopoly over the means of violence in the country by virtue of their being in government and therefore have power over:
The Armed Forces
The Ghana Police Service
The Immigration Service
The Prison Service
National Security
The Bureau of National Instigations(BNI)
Several armed vigilante groups, invisible forces, delta forces, Volga bull dogs, Volta cats and western crocodiles; some of whose members have been infiltrated into the Police Service and Armed Forces
As we have seen, President Akufo-Addo is ready and willing to deploy these armed groups whether legal or illegal against the opposition and innocent Ghanaians as was amply demonstrated during the Ayawaso West Wuogon bye-election in 2019 and during this registration period.
Any person who has carefully followed these developments can draw only one conclusion; that a grand scheme had been hatched by President Akufo-Addo and his henchmen to rig the 2020 elections through:
Harassment, Intimidation, Violence, maiming and killing of opposition party members and other Ghanaians, using the security services
Votes suppression in opposition (NDC) strongholds through direct intimidation and prevention from voting
Cooperation of the partisan Electoral Commission with the government to manipulate votes counting and results collation.
Any of the above actions is potent and capable of making sure that Akufo-Addo remained President of Ghana.
Only Ghanaians can save themselves from this pending catastrophe by completely rejecting Nana Addo Dankwa Akufo Addo, voting massive against him and refusing to accept a flawed election results, so as to restore the once beautiful country of Ghana, united as one people with one destiny and as one nation.
7th December, 2020 is the day of salvation, liberation, redemption and reckoning to restore the ideals of our founding fathers, "Freedom and Justice" in unity for development.
So, let us rededicate ourselves to our nation once more with our national anthem :
"God bless our homeland Ghana,
And make our nation great and strong,
Bold to defend for ever,
The cause of Freedom and of Right.
Fill our hearts with true humility
Make us cherish fearless honesty,
And help us to resist oppressor's rule
With all our will and might for evermore."
God help us to resist Akufo-Addo oppressor's rule with all our might forever more.
God and Allah be our saviour.
Eric Ametor-Quarmyne