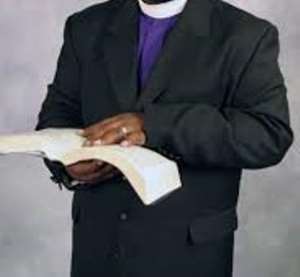 They never cease to bombard us with their apocalyptic messages. I'm talking about some charlatan pastors in our world today.
In 2011, American Christian radio host Harold Egbert Camping flooded our ears with his rapture and judgement day prediction. Mr Camping stated that the rapture and judgement would take place on May 21, 2011, while the end of the world would happen five months later on October 21, 2011.
As it's always been the case they attribute their jaundiced pronouncements to God!
Indeed, they're the only ones that see God.
The only ones that hear his voice and they're the special ones--God's beloved. And of course, they're the only anointed ones. The rest of us are from Mars and are not partakers of his abundant grace.
A couple of days ago, one such God's 'anointed' ones popped up like mushroom on social media.
The self-professed Ghanaian pastor has issued a fiat to President Akufo-Addo, saying God will unleash a cataclysmic plague upon the nation, if the President fails to open up churches for people to go and worship.
He says Ghana will face God's wrath by Sunday 17, May, 2020.
"This Sunday 10 May 2020 and next Sunday 17, May 2020, if you don't open the churches, God says I should tell you, something will happen to this nation," he warned.
Next Sunday, this will be the end for God to punish this nation. He will spare the youth. But the leaders of this country will face his wrath. Mark my words something calamitous is going to happen ."
And what's his name?
He calls himself Osofo Hunu-Naka-nayor.
The scripture says:"Ye shall know them by their fruits," ( Matthew 7:16-20).
So what happened to the May 10 ultimatum?
I thought the brimstone was to take place on the said date. May I ask: Which of the gods' voice did you hear Mr. Asomasi? I bet it wasn't the Almighty God, because he would have told Pastor Mensa Otabil same message. The International Central Gospel Church (ICGC) Founder and theologian has asked the president to extend the ban on church-related activities etc.
In contrast, you claim God wants his people to disregard the President's order in the wake of the pandemic. Are you real? Are you really from God?
Are you a saboteur? Does the most high dwelleth in temples made with hands? Can't the people worship him in their closets and even in bathrooms?
Hello Mr. Nyame nipa.
I've two bad news for you. First, the president has extended the ban to the 31st of May, 2020. So now what? The second bad news is--Jesus hates religious pretence. But here's the good news. He loves pretenders. Don't forget, he gave his life for hypocrites like you and me. Think about it!
Now, I can say this: A fool's food is disobedience not ignorance (Gordon's 5:12-20). May the Lord have mercy on you for spreading falsehood, being disobedient to him and authority.
Deep down in our hearts, we know we are not righteous. We know we are pretenders.
We know we lack knowledge and we know we are not who we claim we are. Yet, we act like we've got everything wrapped around the fingers. May the Lord have mercy on us.
We act foolish, play naughty and pretend to be smart only to find ourselves stuck in the middle not knowing what else to do. May the good Lord have mercy on us.
We've been acting stubborn and breaking the commandments of our leaders. We've ridiculed social distancing and called COVID-19 a hoax, yet the virus is killing our siblings, friends, fathers and mothers including our loved ones.
Did you know this?
That Ghana's COVID-19 death toll has risen to 22 it's not me saying. And I'm not making things up. That's a fact.
Yet, folks like you think it's one of the fake stories.
Even though there's been significant progress in the efforts to contain the spread of the virus, we are not out of the woods yet. Yes, the President made an allusion to that.
According to the President the numbers of confirmed cases that had been announced since Friday, 8 May, are current daily figures since all the backlog of samples had been cleared.
"So, as of today, Sunday, 10 May 2020, the country has conducted a total of 160,501 tests with our total number of infections standing at 4,700, 494 recoveries, five persons being critically ill and 4, 179 persons responding to treatment," Mr Akufo-Addo stated.
That sounds good, isn't it?
But elsewhere at Zodiac, Dansoman in Accra, I can tell you, things didn't look good when the cameras swooped in. The people had refused to wear their face masks. They'd also flouted the social distancing protocols, compelling the MP in that constituency to rebuke them. Did these people think the virus is gone?
It seems to me, something is wrong!
Did we not care because we didn't know?
Or we're just playing the fool and acting ignorant?
Did we not see or we feigned blind? Did we not hear because we didn't want to hear or read about it?
Did we not read about the killer virus, COVID-19?
Why does it seem so hard to talk to, or adhere to admonitions?
The people of Zodiac
Ursula Owusu-Ekuful, Communications Minister was seen in a video rebuking her constituents at Zodiac and Mobile Telecommunications Network (MTN) officers. She was disappointed with MTN staff at her constituency.
"At the MTN office in Zodiac Dansoman, there's absolutely no respect for social distancing. They've been shut down and will not be allowed to operate till they have better arrangements in place," she wrote in a WhatsApp post a few days ago.
"Reputable corporate organization like this should not be flouting the law and creating conditions for the virus to spread,' said Mrs Owusu-Ekuful.
As if that wasn't enough, there was another video that surfaced almost at the same time that the doomsday pastor was trumpeting his damnation message.
It was a bizarre encounter between a Bible-thumb Christian and three police officers. The law-enforcement agents had been deployed in the streets of the city to ensure that citizens comply with the President's order.
The preacher woman had no face mask on.
Asked why she'd refused to wear one: The lady replied: "I don't need a mask, because I serve the mighty God. If you are righteous you don't need a mask God will protect you from the virus."
Remember what I aforesaid?
A fool's food is disobedience, not ignorance.
I'm yet to see a believer go lay down in a railroad and pontificate his or her piety.
By Gordon Offin-Amaniampong
zzzzzzzz