I'm Not Single – Tolani Osirin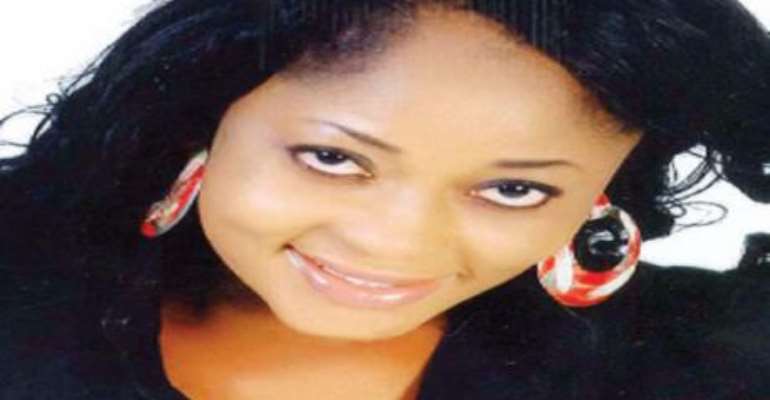 Popularly known as Tolani Osirin, Abiodun Sofuyi Okeowo, is a known name in Nollywood; she features mostly in Yoruba movies and has been in the industry for five years. The mother of two, who is reputed to have one of the sexiest figures around is already a known face with her captivating performance. The Lagos State University communication Arts graduate, who has produced many films on her own, spoke with Ajibade Alabi in her Ogba residence Lagos on many issues. Excerpts:
Tell us when, where and how you joined the movie industry?
I started with the Ray Eyiwunmi Organisation, a group consisting of Lasun Ray, Muka Ray and Murphy Ray, in February of 2006. I joined the group as an apprentice. After some years I could stand on my own, and so I produced my own first movie in 2007. It was titled Tolani Osinrin.
What prompted you into acting?
I will like to say here that acting is inborn for me. My dad used to be in the Awarawa Theatre group with Jide Kosoko and the likes. When I was in primary school, I used to bring out our desk so I could act in class. Sometime ago when some of those classmates of mine saw me they were not surprised that I ended up acting. They were like 'oh! Abiodun, so you finally became an actress.' So it is a desire that I grew up with.
Since you joined the industry how many movies have you acted in?
I have lost count but I am sure it is close to 50 or more.
Tell us about some of them?
I produced five of them myself: Tolani Osinrin, Okanjua, Oke-irapada, Asise nla and Edidi Igbeyawo and I have acted in: Lagos to Benin, Uncle Adisa, Opin-Irin ajo, Ohun Buruku, Aso tuntun, Boseyemi, Temiyemi by Bimbo Oshin, Taloye, believe me, I have lost count.
Which one of them would you say propelled you?
I will say that Tolani Osinrin, my first production because it shot me into limelight. Before that production, I was used to only being featured in two or three scenes but after I did Tolani Osinrin, the name stuck and people began to ask if it is the Tolani girl and so the name went a long way before my face registered on people's minds. So, Tolani Osinrin did.
Tell us about yourself?
My name is Abiodun Sofuyi. I am the last born and an only girl in a family of five. My mother is a trader while my father is a man of God. I am from Ogere in Ogun State. I attended Onayade Primary School, Jibowu High School and Lagos State University where I studied Communication Arts. I did my industrial training at Lagos Television (LTV) before I started acting; right now I am a single mother of two, a boy and a girl.
What happened to your husband?
Don't let me go into that (laughs). Although I still use his name. We were never married so....
Which of your roles would you say was most challenging?
I am yet to see a very challenging role but if you insist I give you one, I would say my role in Aso tuntun. In the movie I had to run seriously and because of my size it was difficult for me to run. I'm sure you see that I am not slim and so can't really roll freely but because I am an actress I just had to do it. I still believe though that my best is yet to come; I have not been challenged the way I really want.
Have you ever been sexually harassed to get a role?
No! I came in through the right channel where we are not allowed to go to location without the guidance of our Oga(boss). By the time I started going to locations, I was already a producer and a known face, so it never happened to me.
What are we likely to see majorly in your wardrobe?
I love shorts a lot.
What is your favorite perfume?
I love Prada and Gucci
Your favorite colours?
I love flashy colours, I love fusia pink, yellow and blue
Who is your role model in the Nigeria movie industry?
I love Bukky Wright, Joke Silva, Fathia Balogun, Shola Shobowale.
Could you share your most embarrassing moment on set with us?
It was a show between I and Lasun Ray. I was acting as a nurse in one movie and instead of facing the camera I was backing it so he had to scold me and I began to cry because I was not used to the system at that time. I so upset that i was being insulted publicly like that but along the line, I realised that that is how the industry runs; everyone at some point had to be scolded and corrected. I later played the part in the movie and when the film came out, I appreciated the scolding because I did well.
What about most embarrassing moment with fans?
I was walking on the street and I saw three ladies walking towards me, two of the ladies were like, 'oh! It is Tolani Osinrin'. Two of them were coming to greet me while the third one was like, 'who is Tolani Osinrin?' She just drew them back and said "come on let's go". I was so embarrassed.
Do you play romantic roles?
Sure.
How far can you go?
I can go far, as long as I am not going to act dirty, because my children are going to watch the movie.
How do you cope with your responsibility as a single mother and actress?
Here I will give it to my mother, she is a very caring, loving mother, and she takes care of my children when I am not around.
How did you meet the father of your children?
We met in Church.
What is the craziest thing a man has ever said to you?
Let me just say it the way he said it, 'this your hips go kill person o! (laughs).
Tell us someone you admire and will like to meet if you have never met him/her?
Olu Jacobs and Joke Silva. Actually Olu Jacobs was in the first part of Opin Irinajo while I was in the second part. That was when I joined the Lasun Eyiwunmi group so I never had the opportunity of meeting him.
How do you spend your leisure time?
I am a homely person; I stay at home and watch movies, then sometimes I take my kids out.
Apart from acting what else do you do?
Presently nothing, but I'm planning on going into business very soon.
What sort of business?
I am thinking of clothing and jewellery.
If you are opportuned to change something, what would you like to change about yourself?
I will like to have a full neck (laughs) and a bolder face.
In the space of five years you have been able to produce 6 movies, how have you been financing your production?
The first one I got a sponsor for, thereafter I became a commercial actress so I do not use my 10 fingers to eat.
What should we expect from you in the next five years?
Olorun lo ni dede, man proposes, God disposes. I just pray to God that he should put me where I would love so much.
Are you working on something right now?
Not really, I want to take my time, do my homework well, do more researche and come out with something good, a better movie than the 5 I have produced all together. Of course I am shooting another movie; I will be on location on Friday. But I do not know the title yet.
So, what are your complaints or kudos about Yoruba Nollywood?
I will give kudos to Nollywood right now because we are improving technically and, the artistes are improving too.
How would you compare Nollywood and others like Bollywood and Hollywood?
Well, permit me to use a Yoruba adage to answer, omo eni ole se'di bebere ka fi'leke sidi elomi, even if we are not the first, I will give us the first. We are the best anywhere, anytime.
What can you say about a production written, produced and directed by the same person?
Well, let me be sincere, it is not good. If I write my story, I will not direct it; I might just be an actress in it, shikena. I will not even be the one to coordinate. I think there should be division of labour. Maybe those people think they are jack of all trades, that they can do it well.
What can you say about the issue of piracy?
I just pray that God should come to our rescue. In fact, everybody is trying their best. The actors, the actress and the marketers, all are working to curb it but it is not easy to curb them at once. I still think that the government should come to our rescue. For example, the last film, Olasco, was on DVD so it will not be easy to pirate. So, that is why I said if the government can come to our rescue then we will minimize the number of films coming out.
How do you think government can help?
Football is a kind of entertainment, right? and government invests in it. If they can do the same thing in the movie industry by giving certain amounts to aid the shooting of a particular number of movies in a year and also making sure that artistes and crew who feature in it get substantial amount, it would go a long way to help situations.
How is your relationship with the father of your kids?
It's okay, very cordial...We talk when it is necessary.
Why didn't you get married?
Of course, very soon I will get married
To another man?
Yeah! I have got a man in my life that I won't disclose. I'm not single;
Yoruba's believe that every woman must have a crown, a husband that is
Sure.
As the head of the family, when should we be expecting?
Everybody has his or her own way of doing things. I might not want to make noise about it but I have a man in my life though we are not public yet and nothing has being done but very soon. By the time you start seeing rings on my finger you will know I'm married. But it's coming.
So, as a producer, how and where do you get your inspiration from?
I get inspiration from things happening around me, and sometimes there are fallacies too 'aroko'.
What is your advice for the upcoming ones?
I will say here that they should be determined. They should not come into the industry with the aim of dating an actor or any producer or better still a star to make it. They should be ready to tolerate, they should have the spirit of perseverance and they should be extremely humble. That is all.
How will you describe your personality?
I am an introvert, 60percent of me is an introvert and 40 percent is an extrovert. I do not hold grudges. I am the kind of person that when you offend me, you will see it immediately that I am angry then after some minutes it is gone. I do not keep malice. Even, if the person is planning to hold grudges I will go and meet the person. I am like that.