Actress Lilian Bach Turns 'Pata' Seller.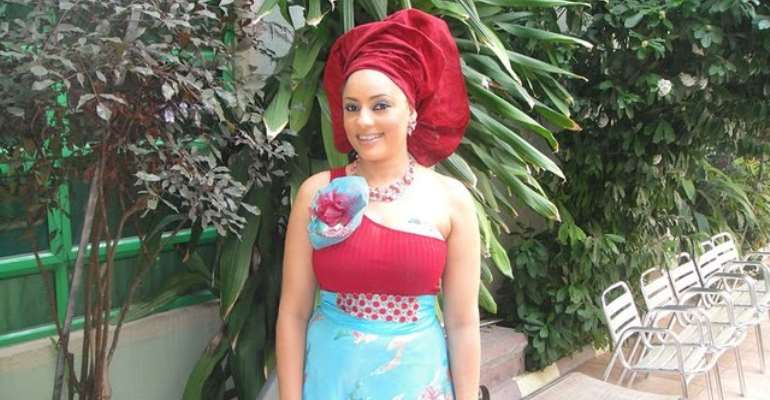 -Debuts with 'Curiosity Underwears'
Pretty zodafone ambassador lilian has just joined the list of entertainment celebrities who have added another feather to their day job.
According to olofofos''she ordered for underwears over one year ago and they just arrived.renovation and decoration have since kicked off at her shop located inside adeniran ogunsanya shopping mall.
The goods are a mixture of things ordered from america and europe and lilian is set to bring back the word sexy and meaningful to some peoples buttocks''.
Lilian tells Stella Dimoko-Korkus why she decides to veer into this line of business.
1-we hear you are about to open an underwear shop,is this true?
..yes stella,it is.
2-why underwear and what kind?
I love good quality underwear.Some People don't like paying Attention to what they wear under their clothes because they believe these pieces of garment are always covered up so it doesn't matter if they don't look good or the quality is not there. I want to correct this impression that is why I have decided to go into the under wear business.I stock all kinds of underwears for every purpose.For instance,a woman shouldn't wear her day to day bra for Exercise! D sport or Exercising Bra is specially made to hold the Boobs from Bouncing and causing Discomfort .
I want to Educate women and men on how to wear the right kind of underwear for the right purpose. Some women don't know their right Cup bra sizes and how to maintain their undies.I am in the business to help advise and make Recommendations on how to feel comfortable and look good under the clothes.
3-So you have bra sizes to fit all kinds of ladies?even cossy orjiakor?
..yes i do.I stock all kinds af Bras,shape wears,brazilian,thongs,strings,briefs,slips,hipster,breast minimising bra,night gowns,baby dolls, swimming Wears, underwears accessories,ornament bra straps etc.
as for the Men i sell vests,beach shorts,boxers,briefs,mens hipsters,swimming wears,etc.
4-goodluck lilian,we hope your 'pant' business sells well.
...thank you
Posted by dimokokorkusstella at 12:56 AM 0 comments
Labels: bach, curiosity underwears, lilian, lilian bach, nollywood actress, nollywood.bra.