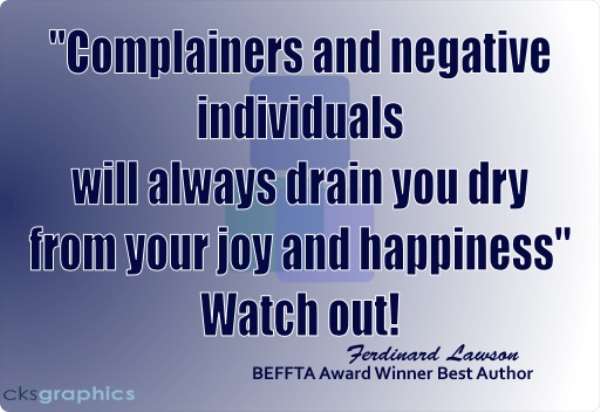 1st Thessalonians 5: 18; Ephesians 5: 20; Philippians 4: 6; Colossians 33: 17
'Develop an attitude of gratitude, and give thanks for everything that happens to you, knowing that every step forward is a step toward achieving something bigger and better than your current situation.' - Brian Tracy
Developing the attitude of gratitude means to adopt a lifestyle of thanksgiving and to be able to show appreciation to someone you revere highly for what they have done for you. Your attitude remains the same irrespective of the circumstances facing you. You still appreciate God for the life you have.
Your attitude is that no matter what limitations before you, you will make your mind up to remain grateful. Sometimes negative thoughts and ideas may arise to challenge your love for God, but you develop the habit to remain thankful at all times.
In everything give thanks, for this is the will of God in Christ concerning you. 'Let the high praises of God be in their mouth, and a two-edged sword in their hand, to execute vengeance upon the heathen, and punishments upon the people, to bind their kings with chains, and their nobles with fetters of iron, to execute upon them the judgments written, this honour have all his saints, praise ye the Lord' - Psalms 149: 6-9
'I will trust him whatever, wherever I am, I can never be thrown away. If I am in sickness, my sickness may serve Him, in perplexity, my perplexity may serve Him, if l am in sorrow my serve Him. My sickness or perplexity or sorrow may be necessary causes of some great end, which is quite beyond us. He does nothing in vain.' - John Henry Newman
'The vine is dried up, and the fig tree languisheth, the pomegranate tree, the palm tree also , and the apple tree, even all the tress of the field, are withered, because joy is withered away from the sons of men' - Joel 1:1-2
'Seeds of discouragement will not grow in a thankful heart' - Anonymous
When we lack the spirit of thankfulness and praises to God for the things we have now, even the little we have is taken away from us. Anything we may set our hands on may become dried up. We may lack freshness in our marriage, simply because we lack joy and gratitude. It is very important that we maintain the heart of gratefulness always, as it brings things faster to us.
The Bible says 'The joy of the Lord is my strength'. My Bishop once made a statement which really cracked up my brain. According to him 'gratefulness is a covenant attitude', which is very true.
Given that we are children of the great Jehovah, we have a covenant with Him regarding our salvation, so it is important and prudent that we maintain the covenant attitude of gratitude towards him, with the appreciation that God is still and always will be in control - see Luke 12:22-23
A joyful attitude of thanksgiving brings things our way even if we do not seem to qualify for them. It is my personal observation that when we lose our sense of gratitude, we can lose our peace and joy, for our God desires that we enjoy peace and joy at all times - see Romans 8:28. As David puts it: 'I will praise the name of God with a song; I will magnify him with thanksgiving'.
'This will please the Lord more than an ox or a bull with horns and hoofs; Let the oppressed see it and be glad. You, who seek God, let your hearts revive' - Psalms 69: 30-32
The accounts of Paul and Silas as recorded in Acts 16:23-26 is quite revealing: 'And when they had laid many stripes upon them, they cast them into prison, charging the jailor to keep them safely, who having received such a charge thrust them into the inner prison, and made their feet fast in the stocks. And at midnight Paul and Silas prayed and sang praises unto God, and the prisoners heard them and suddenly there was a great earthquake, so that the foundations of the prison were shaken, and immediately all the doors were opened, and every one's bands were loosed'.
Paul and Silas, as we are told, were arrested and put in prison for casting a spirit of divination out of a girl. They were subjected to severe torture, but nevertheless, in the midst of their suffering and pain, they prayed and sang praises to God. This may sound ridiculous and strange to the other prisoners, who were used to hearing only the groans and cries of beaten and tortured prisoners.
In the process of time the earthquake that shook the foundations of the prison flung its doors open and not only were the bonds of Paul and Silas released but those of the other inmates.
A question that may come to mind may be - what had caused the prison doors to open? Surely, praise and worship is the answer. Praise and worship lift us to the presence of God.
'There is fullness of joy in the presence of God' - Deuteronomy 4:29
It is important that we recognize the presence of God who created all that we have and will ever need. Paul and Silas no doubt were aware of the power of praise and worship, how to lift their hearts above their challenges or problems and enter into the presence and power of almighty God, hence they engaged God's power through praise and worship and this brought them into his peace and presence, opening the door of opportunity for the Heavenly Father to help them.
The Bible makes it clear that God lives in the praises of his people (Psalm 22: 3). In other words, God 'dwells' in the atmosphere of praises. Thus praise is not merely a reaction to coming into the presence of our maker, but a vehicle of faith which brings us in to the presence and power of the great Jehovah. Praise and worship is a 'gate pass' which allows us entry into the sacredness of his glory.
The psalmist will say 'Enter into his gates with thanksgiving and into his courts with praise, be thankful unto him, and bless his name' -Psalm 100:4
Our Lord and saviour Jesus Christ also emphasizes the need to value the presence of God when it comes to praise and worship, 'for where two or three are gathered together in my name, there am I in their midst' - Matthew 18: 20. It is also important that whenever we gather to praise his name, our God should be our only focus of everything we preach and sing about. 'I will declare thy name unto my brethren, in the midst of the church will l sing and praise unto thee' - Hebrews 2:12.
It is interesting to note that miracles can manifest in the atmosphere of praise and worship as God's power responds when we invoke his presence into our lives through this medium.
Praising God actually means 'to command, applaud or magnify'. It is an expression of worship, lifting up and glorifying the living Lord. It is an act of humility, focusing our attention upon the Lord, with all our heartfelt expressions of love, adoration and thanksgiving. High praises bring our sprits into the pinnacle of fellowship and intimacy between God and his children.
Praises magnifies our awareness of our spiritual union with the highest God, and transports us into the realm of the supernatural, which is in the presence of the power of the Almighty. Therefore when gratitude springs up in the human heart towards God, he is magnified as the wealthy source of our blessings and acknowledged as the giver and a glorious Father.
There are several actions involved in praising God. They can consist of verbal expression of adoration, praise and thanksgiving, singing, playing of instruments, dancing and lifting or clapping of hands. However, true praise is not merely going through these emotions.
Jesus spoke about the hypocrisy of the Pharisees, whose worships were only outward displays and lip service rather than indications of genuine expression of their love for the faithfulness of our living God. 'These people draweth nigh unto me with their mouths, and honoureth me with their lips, but their heart is far from me' - Matthew 15:8
I have come to realized that a genuine praise to God is a matter of humility and sincere devotion to the Lord with true heart. And as the psalmist will say, 'enter into his gates with thanksgiving, and into his courts with praise. Be thankful to him and bless his holy name, for the Lord is good' - Psalms 100:4-5.
The secret key is that if you ever want anything from God, you will have to thank and acknowledge him for what he has already provided; this is what is known as faith. The problem with us is that we are mostly very quick to ask God for his help, but slow to offer thanks unto him for what he so generously provides us. The Bible puts it succinctly with its account of the 10 lepers - Luke 17:17-18.
As we need deliverance, we would need to express thankfulness to the Lord for what he has already done. The book of Philippians 4.6 encourages us not to be anxious for nothing, but in everything by prayer and supplication, with thanksgiving, let our requests be known to God.
Praise to God is a Lifestyle. All too often, praise to God is something that many people leave in the church, as they see it as an event that should only happen when they come together in fellowship with other believers or Christians. However, praise should be a part and parcel of the believer's lifestyle and part of your daily prayer life - in the car, at home, in the kitchen, bedroom, bathroom, and indeed at all times and places. Praise to the Lord brings about the refreshing of His presence, along with his power and anointing. 'I will bless the Lord at all times, his praise shall continually be in my mouth' - Psalms 34:1
Praise is an expression of faith and a declaration of victory. It declares the believer's deep acknowledgement of his divine authority and sovereignty over all our circumstances - see Romans 8:28.
Praise is a 'sacrifice' that we offer to God voluntarily, for the faith we have in His being and for His abundance of kind mercies and grace but not just out of fun. 'By him therefore let us offer the sacrifice of praise to God continually, that is, the fruit of our lips giving thanks to his name' - Hebrews 13:15
Your enemies are dealt with by God through praise. Since praise manifest God's presence, we must also realize that it repels the presence of the enemy, Satan. An atmosphere filled with sincere praise and worship of God by humble, devoted, committed and contrite hearts disgusts the devil. He fears, and will flee from, the power and the presence of the almighty God.
'Whoso offereth praise glorifieth me, and to him that ordereth his conversation all right will l show the salvation of God' - Psalms 50:23
When the children of Judah found themselves outnumbered by the hostile armies of Ammon, Moab and Mount Seir, King Jehoshaphat and all the people sought the Lord's help. The Lord assured the people that this would be his battle, and told them to go out against them, and that he would do the fighting for them.
So what did the children of Judah do? Being the people of 'praise', given Judah actually means Praise, and knowing that God manifests his power through praise and worship, they sent their armies against the enemy, led by praise singers, declaring 'Praise the Lord, for his mercy endureth forever'. The consequences of their actions are well recorded in 2 Chronicles 20:22. When God's people begin to praise his name, it sends the enemy running.
I challenge you to become a person of praise and you will experience the release of the power of God in an awesome way. God gives us assurances of additional blessings as we praise him. When we praise God, He honours us as His children, provides His loving divine protection and divine covering - see 2 Samuel: 22: 47-51. Our failure to praise the Lord leaves us out of His loving divine protection and divine covering, hence we become exposed to the vagaries of the enemy - see 1 Samuel 2: 27-32.
You may be familiar with that wonderful and exciting chorus 'under the canopy of God'. If you do as I do, come along and begin to praise the great Jehovah now. May God richly bless you for this praise. Our praise can also serve as a testimony or witness to those who do not know the Lord - see 1 Peter 2:9; for the Lord our God works miraculously through praises.
THANKFULNESS ENCOURAGES AND MOTIVATES OTHERS BECAUSE IT'S CONTAGIOUS.
Having an appreciation for how amazing the people around you are leads to good places productive, fulfilling, peaceful places. So be happy for those who are making progress. Cheer for their victories. Be thankful for their blessings, openly. What goes around comes around, and sooner or later the people you're appreciating will start to appreciate you.
It is a fact of life that whatever we do sets example for other people. Thus if we fail to show a thankful heart to our God by our actions, we may become stumbling blocks to other people. This explains why believers need to demonstrate high degrees of commitment, devotion and seriousness of attitude during praise and worship sessions at all times.
Today in our church we have a devoted full service purposely for thanksgiving, praise and worship. The testimonies of this session are abundant; among others is the resulting regularization of the immigration status of those members of the congregation who placed their needs of indefinite leave to remain in the United Kingdom, before Almighty God.
We have set an atmosphere of praise and worship which impacts heavily on our new members and even first-time visitors, as they are able to testify to the lifting up of their spirits before the Lord and their feelings of being blessed. My personal testimony is the realization that when thanksgiving is practically demonstrated, such as evangelism, it blesses others and sets examples for those around us.
Thankfulness strengthens your faith. 'Rooted and built up in him and established in the faith, as ye have been taught, abounding therein with thanksgiving' - Colossians 2:7
Thanksgiving is so powerful that it lifts up your faith and encourages others. The word of God says that without faith it is impossible to please God. In this sense thankfulness may be seen as the fuel to faithfulness, as it strengthens the faith of the believer and his/her dependence on the Lord for all their provisions.
'God is all you need to have all your needs met adequately'.
If you have been feeling defeated, it could be because you have forgotten the benefits of God through thanksgiving - see Habakkuk 3:17-18, Joel 1; 1-2, 'You shall know the truth and the truth shall set you free'.
Let God's word tell you who you are and what you have. Don't give attention to anyone who tells you anything different, for God's word is true. When God called Gideon a mighty warrior, there was no evidence to suggest that it was true. God saw and spoke about what will become.
Learn and understand what God says about you and accept his opinion. Believe what God says about who you are in Christ Jesus, and you will become just what you are in Him. By faith through thanksgiving, believe the truth and act on what you believe. You will build your faith as you constantly remind yourself who you are in Christ Jesus.
Thankfulness is the fuel that sustains your sure faith.
Our heavenly father knows the importance of thanksgiving that was why, When the Israelites were given the Promised Land and all its abundance, God, through Moses, charged the people 'when you eat and are satisfied, be careful that you do not forget the Lord' (Deuteronomy 6:11b-12a).
Develop the attitude to be thankful to God always, because thankful people always have their tanks full of God's blessings and divine favour. Begin to praise yourself into your destiny and know that praises break limitations.
Ferdinard Senyo Lawson
(Motivational Speaker & Beffta Award Winning Author)