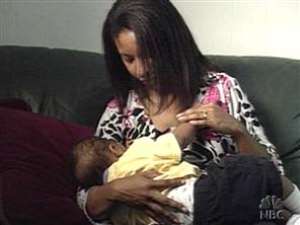 Science shows that even the youngest infants can distinguish their mother by the sound of her voice.
How to handle working mom guilt
Perhaps your first bout of mommy guilt hit within hours of your delivery or maybe it crept up when you took your first vacation without the kids. Mommy guilt is an inevitable part of parenthood - just like sleepless nights and dirty diapers. For working moms, it's a tug you may feel every day with nagging questions like: What if I'm not there for her first steps? Should I drive carpool or attend a staff meeting? Whether you work because you want to or because you have to, feeling guilty doesn't need to be a life sentence. Read on for tips from experts and working moms on how to live on guilt free.
The kids are alright
Make the title of this past year's hit movie your new mantra -- because it's true. One of the most comprehensive child-care studies conducted at Columbia University in partnership with the National Institute of Child Health and Human Development found that the overall effect of having a working mom versus a stay-at-home mom is pretty much a wash. Bottom line: You're not scarring your kids every time you go to work, so give the guilt a rest.
You're not alone
More than 70 percent of women with a child over the age of 1 work outside the home, and those other moms - even just one of them - can be an invaluable source of comfort and support. Gina Robison-Billups, founder and president of the International Association of Working Mothers and author of The Accomplishment Journal For Working Moms, says that connecting with other working moms is absolutely essential to reducing guilt. "When we share our guilt and that terrible feeling that we're not giving enough of ourselves to our kids, we realize that other moms feel the same way -- it's incredibly liberating."
Kids are resilient
Your child may be in hysterics, hanging onto your leg as you walk out the door, but chances are she stopped crying and started playing - happily - before you even made it down the driveway. "Moms who see their children so distraught at the time of separation have a hard time realizing that most kids will be more content in just a matter of minutes," says Meredith Elson, a New York City psychotherapist, social Worker and mom. Guilt-free tips:
Don't prolong your goodbye, even if your heart is breaking. The longer you linger the worse things will get.
If you're really worried, call your sitter or day care once you arrive at work to check on your child. Just hearing that they're playing happily will ease your conscience.
Happy mom, Happy kids
Many working morns report that their jobs give them a tremendous sense of pride and independence, which inevitably translates to their parenting skills. And, on the flip side, there are just as many stay-at-home moms happy and fulfilled in their role as caregiver to their children. But Robison-Billups points out that a miserable stay-at-home mom can have negative effect: "If you're home feeling frustrated and stifled, your kids will pick up on it, she says, "so do what you need to be happy and your kids will be happy too." Joanna, a 38-year-old television writer and mother of a 14-month-old daughter agrees. "I don't feel any guilt because I believe that if you are doing something that truly makes you happy, it will in turn nurture your family.
Quality over quantity
Ever hear the saying 'children spell love, T-l-M-E? Although it can be true, it only works if the time is joyful and loving. An entire day spent with an irritable, inattentive parent doesn't compare to a few hours spent bonding at the park, playing a board game or making dinner together. But, of course, this means setting work aside when you get home. "Put on your mommy hat when you walk in the door," suggests Dr. Cara Gardenswartz, an L.A-based psychologist, spokesperson for the American Psychological Association and mom. "Quality time when you are fully present is far more important than the number of hours you log." In fact, the same Columbia University study also found that working moms display more responsiveness toward their children than their stay-at-home counterparts.
But how do you create quality time when we're all leading such demanding lives? Robison-Billups suggests the secret lies in prioritizing. "Sit down and make a list of the things that are most important to you, like family, career, community or money. Then write down how much time you actually allocate to these aspects of your life. You'll be surprised to see how much time you spend on less important things." She also notes doing this exercise quarterly and remaining flexible, since priorities have to change from time to time.
Trust your caregiver
If you chose your caregiver or daycare carefully, then you should have confidence that your child is in good hands. "Caregivers actually play a big role in developing a child's sense of security," says Robison Billups. "Kids learn early on that there are other people who can care for them. In other words, it's not all about you - and that's a good thing.
For better or worse ... but better if you work
The happiest, healthiest marriages are true partnerships, so if working makes you feel like more of an equal partner, then your relationship and your children benefit. "I think I'd be a better wife if I worked full time," admits Wendy, a 36-year-old, who craves the independence and confidence that the workplace once offered her. And according to a recent report from the Center for American Progress, Wendy is onto something. The study revealed that the more economic independence and education a woman has, the more likely she is to stay married.
Play out the alternative
Working moms certainly haven't cornered the market on guilt. Stay-at-home moms play the crazy game of 'Am I a good enough mom?" just as well. "There are emotional trade-offs either way because neither is a perfect solution for most women," says Gardenswartz. So when that guilt sneaks up on you, imagine your life without your job. Chances are you'd miss what it offers, even if it isn't always ideal.
Take a cue from dad
Gender roles may be shifting, but chances are still pretty good that your husband doesn't feel soul-crushing guilt when he heads to the office. "Working is a source of pride for men, since they're programmed to think that providing is one way to show love," explains Robison Billups. Why not learn from your husband's example? Robison-Billups suggests that you start by changing your perspective. "If you value what you do, your kids will as well," she says. "It all depends on what kind of message you send about your job."
What a role model you are!
Want your little girl to believe she can grow up to be anything she sets her mind to and be a loving mom, too? How fortunate she is to be able to look no further than her own mom for proof "Working moms are a positive role model for their kids in so many ways," says Dr. Kim Davis, a psychologist and educator for the Los Angeles County Psychological Association as well as a mom. "They are modeling a strong work ethic, discipline, independence and broad identities." And boys benefit from watching mom go to work as well, since they will one day be husbands and fathers supporting their wives' professional goals.
Look at the big picture
When it comes to working-mother guilt, moms of infants and toddlers tend to get the motherlode. But as your kids grow and start school, their time at home will begin to decrease rapidly. "With most kids' jam-packed after-school schedules, it can be as little as a three-hour differential between the time working moms and stay-at-home moms spend with their kids during the week," says Gardenswartz. For Jennifer, a 39-year-old obstetrician in Hollywood, FL, working-mom guilt dissipated when she did the math. "The number of years that my kids needed a huge chunk of my time was too few for me to put my career, financial security and fulfillment on hold, she says, "At first there was guilt but I am so over it".
Baby always knows who Mama is
If you dread the thought of your child looking his babysitter in the eye and uttering the precious word you long to hear: Ma-ma - you're not alone. It's a common fear among working moms that their infants will think their primary caregiver is their mommy, but thankfully science has proven otherwise. Neuroscientists at the Chicago Medical School at the Rosalind Franklin University of Medicine and Science, found that even the youngest infants can distinguish their mother by the sound of her voice (after all, they listened to their mommies' voice for months before they were born) What's more the infants they observed showed a preference to the sound of their mother's voice over any other sound.
Focus on what you're providing
Those music and art classes your toddler loves certainly aren't free, they're made possible because mommy is bringing home some bacon! "Working moms should give themselves credit for all their efforts to provide for their children" says Gardenswartz. And it's not just about money. Robison-Billups says working moms should focus on all they accomplish on a daily basis. "This is where journaling can be a great tool," she explains. At the end of everyday write down at least one thing you did that made you happy or proud, a successful meeting, a fun family dinner or even those few intimate moments with your child at bedtime. Then when you feel like you're not doing enough, take a look back at all you have done and congratulate yourself.
Take a mental health day
Even the most driven working moms have days they just want to snuggle up on the couch with their kids, and when these moments strike the experts say go with it. "Plan to use a personal day when school is closed or simply call in sick - what better excuse could there be?" says Gardenswartz. Robison-Billups also suggests working with your employer to ensure you have time with your kids when you need it.
"Talk with other working moms in your office and then share your experiences and needs with your human resources manager," she suqqests. Chances are your company will be willing to help you balance your professional and personal lives. When employees are happy and not stressing on what's going on at home they are more productive", says Robison-Billups, "and that's good for everyone".