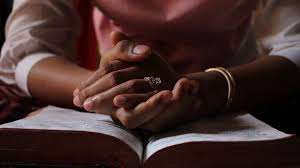 I. MY BELOVED SISTERS IN CHRIST, your wrongful detention at the courtyard of the king of Persia is over. In this last quarter of the year, the prince and princess of Persia cannot resist you. They cannot block your way to the top where you are destined to be. You are in motion this last quarter, and no one can oppose your mission. Anyone who attempts to stand in your way shall be crashed for your Angel Michael has come to help you. THIS LAST QUARTER, YOU SHALL RECEIVE REINFORCEMENT TO OVERCOME ALL OPPOSITION.
II. MY DEAR BROTHERS IN CHRIST, the twenty-one days of opposition is over. The period of fighting alone has come to an end, you shall receive Angelic Helpers to fight on. The Holy Spirit has taken over your case. Since the beginning of your years of prayer of lamentation, God heard your words. Now is the time, Angels will knock at your door to deliver the answers to you. Do not fear, Daniel, for from the first day that you set your heart to understand, and to humble yourself before your God, your words were heard; and I have come because of your words. GET READY TO RECEIVE ANGELIC VISITORS WHO WILL BRING YOUR PARCELS.
III. MY BELOVED BROTHERS AND SISTERS Cornelius saw a vision evidently about the ninth hour of the day, an angel of God coming in to him, with a clear message. In this last quarter, you shall see divine visions, and you shall have revelation through dreams. In this month, God will send Angels to you. This is the season to do exploit and put your faith in God into ACTION. Test the potency of God's WORD. This is the period to be obedient and you shall see the salvation of the Lord. This season, God says your prayers, and your alms have ascended as a memorial before him. God will direct your pathway physically and spiritually for the fulfilment of His WORD in your life. Your prayers have not been wasted, your investment in kingdom business did not fall on the dead ground, and this is the time to reap. THIS MONTH IS YOUR HARVEST SEASON.
IV. BRETHREN IN CHRIST, this last quarter what God has made clean, do not call impure. Don't prejudge the person by mere appearance. Don't allow traditions of men to distract you. Follow God's order not the ways of men. Don't set stabling blocks in your way. This is a DIVINE EMPOWERMENT message sent forth through the Authority and Power of Christ Jesus, and serve to the Brethren through God's Vessel Francis Ameyibor, Yes! Get up, Peter; kill, and eat.
V. 2022 MY EMPOWERED SEASON TO DETHRONE AND ENTHRONED - I will get up according to God's WORD, I will walk accordingly and surely I shall be enthroned on my rightful throne
PRAYER: LORD in this quarter any prince or princess of Persia who will stand in my way of progress, let fire come from heaven and consume them. Any individual or group formed to oppose me, Lord let the spirit of confusion visit them. Lord this month empower me to stand for thee at all times through Christ Jesus name I pray AMEN
REF: Daniel 10:12-14
Acts 10:3-15
WHATSAPP CONTACT:+233277438688
#GOD'S VESSEL GLOBAL FOUNDATION