Dujkovic draws up 32 player list for World Cup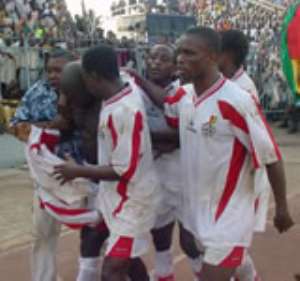 Black Stars coach Ratomir Dujkovic has called up more locally-based players for the team's three friendly match ups against European club sides.
About 32 players are said to have been short-listed by Dujkovic,beforehe prunesthe listdown to 23 for the World Cup.
Sources close to the FA told Joy Sports, the Serbian has named players like Charles Taylor, Yusif Chibsah, Shilla Illiasu, from Kotoko and the Hearts of Oak pair of Dan Coleman and Dan Quaye, among others.
These players will join attacker Baba Adamu Armando and goalkeepers George Owu and Philemon McCarthy on the trip to Germany.
They are scheduled to leave Accra today with head coach Ratomir Dujkovic and his assistants for Wurzburg.
The Black Stars play Bundesliga side, VFB Stuttgart on Wednesday at the Wurzburg training grounds, which is also the camping venue for the Black Stars in Germany.
The team would also play Russian first division sides, Terek Grozny and Anji Mahachkala in Moscow on May 8 and 11; days before Ratomir Dujkovic names his final squad for the World Cup.