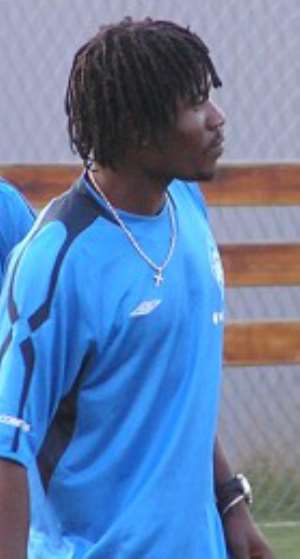 Group rivals Italy, Czech Republic and the U.S. will underestimate Ghana at their peril at the World Cup, according to midfielder Laryea Kingston.
Ghana have qualified for the finals for the first time in Germany later this year but face a battle to reach the second round from Group E, where three-times winners Italy and the Czechs will start as favourites.
"If any team underrates us, we are going to shock them," said Kingston who is preparing for Friday's African Nations Cup game against Senegal.
"You can see we are not a small team, we respect ourselves.
"I'm just advising them that they shouldn't come with any complacency - if they do, I think we are going to shock the world."
Ghana will head for Germany with Africa's most expensive footballer in Chelsea's 38-million-euro ($46.6 million) signing from Olympique Lyon, Michael Essien, who is missing in Egypt due to injury, and a team drawn mainly from European clubs.
While taking nothing for granted, Kingston is convinced his team plays the quality football it will take to reach the second round in Germany.
"In football now you cannot underrate anybody," said Kingston, who will be playing on loan for Lokomotiv Moskva football club in Russia.
"I respect all three countries - it's a tough group. But I know we can do something. We can go through.
"I'm okay with our standard of football. I'm not panicking. Most of our players going to the World Cup are playing in Europe.
"Even if you're not in the same country as another player, you might meet him in the Champions League or the UEFA Cup."
Ghana has produced top international quality players in the past, notably Abedi Pele and Tony Yeboah, but had always fallen short in World Cup qualifying. Kingston puts the failure down to a team being united on paper, but not in the dressing room.
"They had good players, like now, but the problem before was division. They were not united in the national team, there was confusion between players. "Abedi Pele was with his group, Yeboah had his group, there was a kind of discrimination. That was the problem why we couldn't make it to the World Cup. "Now most of this team has graduated from the youth level, we know! each other from then. We were all doing the same things as when we were young."
Serbian coach Ratomir Dujkovic, whose Rwanda side were shock qualifiers for the 2004 Nations Cup at Ghana's expense, is another factor in their success. "The coach relates to us like a father," said the 25-year-old from Accra. "He's a good man, he knows how to talk to the players. Even if you do something bad, he knows how to approach you."
Dujkovic's injury-hit team can only hope for the best in Egypt, knowing they will at least gain some useful tournament experience before moving on to the game's biggest stage in Germany.
"We came here for the Cup but if luck is not on! our side we cannot kill ourselves," Kingston said. "We have to forget it and concentrate on the World Cup.
"I think this competition will help us and the coach prepare well for the World Cup. It's very important."