Boxing: Mayweather v Pacquiao in jeopardy? Bob Arum concerns slammed by Leonard Ellerbe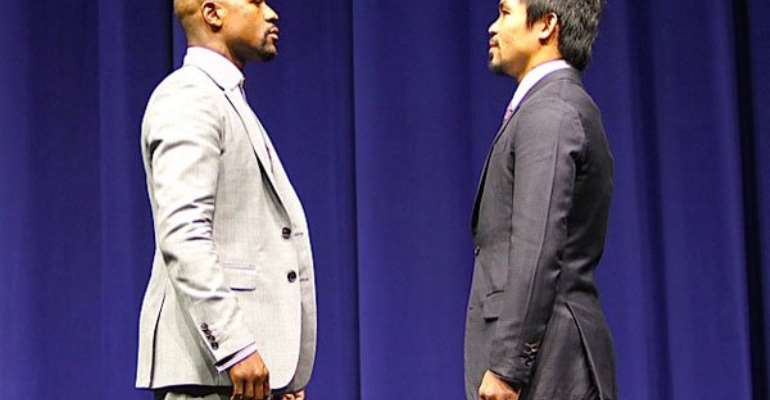 Mayweather Promotions CEO Leonard Ellerbe has rubbished suggestions Floyd Mayweather Jr v Manny Pacquiao is in jeopardy.
Fraught negotiations have been a constant subplot in the making of Mayweather v Pacquiao over the years. Another possible hitch was put forward by the Filipino's promoter, Bob Arum, who told Yahoo Sport on 8 April that the lack of a signed contract between MGM Resorts – the venue – and the respective promoters had left what will be the richest fight in boxing history in doubt.
"I don't know anymore," Arum said on the possibility of the showdown not going ahead. "I've never been in this area before."
But Ellerbe has since told Yahoo Sports: "The notion the fight is in jeopardy is ridiculous."
Arum claimed there is still no final contract between the promoters and MGM Resorts less than a month away from the fight date, a development that has prevented fight tickets from going on sale.
Yahoo explained a memo outlining the deal was signed by both parties in February, shortly before Mayweather made the official confirmation. The memo, which also addresses the distribution of tickets and rooms between MGM and the promoters, was then meant to be included in a final contract for all parties to sign, but that has yet to happen.
"We've got nothing," Arum said. "They're [MGM] are going around saying: "The fight, the fight, blah blah blah, but they've got nothing. They have no contract. Nothing. We haven't even seen a draft... What is happening now is absolutely intolerable. For the MGM to think that everything is resolved and so forth when nobody has ever discussed terms, is the most insane thing ever."
But Ellerbe has furiously hit back at Arum, indicating his counterpart is attempting to create problems where there are none just because he is not the "lead promoter".
"The reason this fight is in La Vegas is because Floyd Mayweather insisted it be in Las Vegas. It is no secret that Bob is the one who wanted to shop the fight around," he said. "You have to remember, he went on a profanity-laced tirade ridiculing the MGM and its management. We are not falling for those tactics. Every time he doesn't get his way, he goes running to the press misrepresenting the facts.
"The bottom line is this: Bob cannot stomach the fact that he is not the lead promoter. Reality has set in, and this is typical Bob. My responsibility is to ensure every deal is done properly, to benefit the fighters and the event."