Andre Ayew defends mis-firing brother Jordan; says Lorient striker is Ghana's second best player at AFCON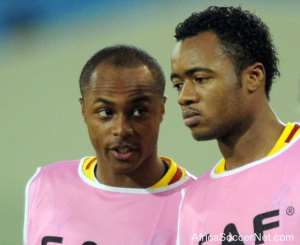 Ghana midfielder Andre Ayew says criticisms about his younger brother Jordan's performance at Africa Cup of Nations are unfair.
Jordan, 22, started all of Ghana's three Group C matches, but could not find the back.
Against South Africa on Tuesday, he squandered a lot scoring chances and there are calls back home for him to be benched in Ghana.
For Andre, the Lorient FC striker is the second best performer of the team at the tournament after the first round.
"In this tournament I think apart from Daniel Amartey who has been excellent Jordan is the one after him, he runs more than everybody, he goes for all the balls and dribbles more than everybody," he told Joy Sports
"He is doing a lot of work because he knows our captain is not 100 percent fit so he has to do more which is normal so those who don't know football won't understand that but he needs to keep calm because what people say or think is not important and what is important is what the group and the coach think.
"We have confidence in Jordan and nobody does the extra effort and he is not rewarded, his hard work is already paying because all the 23 players gave everything to be where we are today.
"So he has done a great job and that he shouldn't change, what he is doing is helping us and he needs to continue so we can go far."