NHL record: Alex Ovechkin breaks Washington Capitals record, St Louis Blues win six straight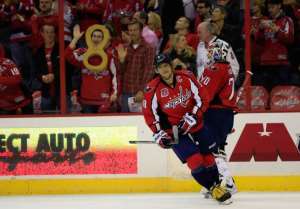 Ovechkin had two assists for the encounter on Tuesday, his first in the 11th minute of the first period seeing him Peter Bondra's 825 points - goals or assists - for the Caps.
He teed up Nicklas Backstrom for an equalising goal, before providing the go-ahead goal for Joel Ward on a powerplay to take Washington 3-2 up - and taking Ovechkin's point tally to 827.
However, a positive result was not to be for Ovechkin - Markus Granlund making it 3-3 late in the third period before Sean Monahan netted the clutch goal for the Flames in overtime.
The St Louis Blues made it six wins in a row, edging the New Jersey Devils 1-0 courtesy of Vladimir Tarasenko's third-period goal.
St Louis tops the Western Conference's Central division on 17 points, similar to the Pittsburgh Penguins - who have won five in succession to lead the East's Metropolitan division on 17 points.
The Penguins downed the Minnesota Wild 4-1 despite having 12 fewer shots on goal, with Pittsburgh goaltender Thomas Greiss making 33 saves.
The Arizona Coyotes held off the Toronto Maple Leafs to win 3-2, ending the Canadian club's three-match winning streak.
Arizona led 3-0 early in the second period after goals to Sam Gagner, Martin Erat and Antoine Vermette - but endured a nervous finish after Toronto made it a one-goal game for the final seven minutes.
In a battle of two strugglers, the Carolina Hurricanes climbed above the Columbus Blue Jackets at the foot of Metropolitan with a 4-2 win.
Nick Foligno scored twice for the Blue Jackets but it was not enough for them to avoid a sixth straight loss.
The Hurricanes, meanwhile, made it three consecutive wins, to match the Blue Jackets on eight points - and eclipse them in the table on fewer games played.
The Vancouver Canucks stormed home to down the Colorado Avalanche 5-2.
Trailing 2-0 deep into the second stanza, Henrik Sedin pulled one back before the final period - and four unanswered goals, two from the stick of Nick Bonino, saw Vancouver canter to victory.
Jonathan Toews scored his 200th NHL goal in the Chicago Blackhawks' 5-0 triumph over the Montreal Canadiens, goaltender Corey Crawford earning the shutout with 28 saves.
Jakub Voracek struck twice in the first period as the Philadelphia Flyers set up a 4-1 victory over the Edmonton Oilers.
The Los Angeles Kings came from behind to beat the Dallas Stars 3-1, Blake Wheeler got a goal and an assist in the Winnipeg Jets' 3-1 victory over Nashville Predators, while Brad Marchand had an assist in regulation before the winning overtime goal in the Boston Bruins' 2-1 triumph over the Florida Panthers.
The Ottawa Senators enjoyed a 3-1 win over the Detroit Red Wings.