Polo urges Essien to play at the 2013 AfCon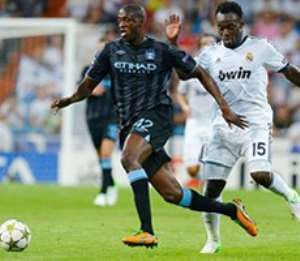 Ghanaian football great Mohammed Polo has advised Real Madrid's Michael Essien to play for the Black Stars at the next year's Nation's Cup in South Africa.
Polo who was a guest on Saturday's Joy Sports Link said Michael Essien can only crown his achievements with the Africa Cup of Nation's which he believes Ghana will win in South Africa.
Essien made a last minute move to Real Madrid ahead of the 2012/13 season following his inability to command playing time in Roberto Di Matteo's first team at Chelsea upon his injury return.
Mohammed Polo who was part of Ghana's 1978 Nations Cup winning team believes Essien "is coming to the end of his career. This will be an important nations cup for him. He has been to the world cup and the nations' cup but is yet to win. It depends on his character as a player who wants to achieve something.
It depends on the interaction between him (Essien) and the Black Stars management and the coach. If he wants to come, why not? But he should be prepared to die for his nation. I played the 1978 Cup of Nations through injury, but no-one knew I was injured because I was prepared to die for it. He is now back and playing for no mean side than Real Madrid, such a big stage so I believe he should be talked to."
The dribbling magician as Polo was affectionately called ended his career in the mid 80s after suffering a career-threatening leg injury.