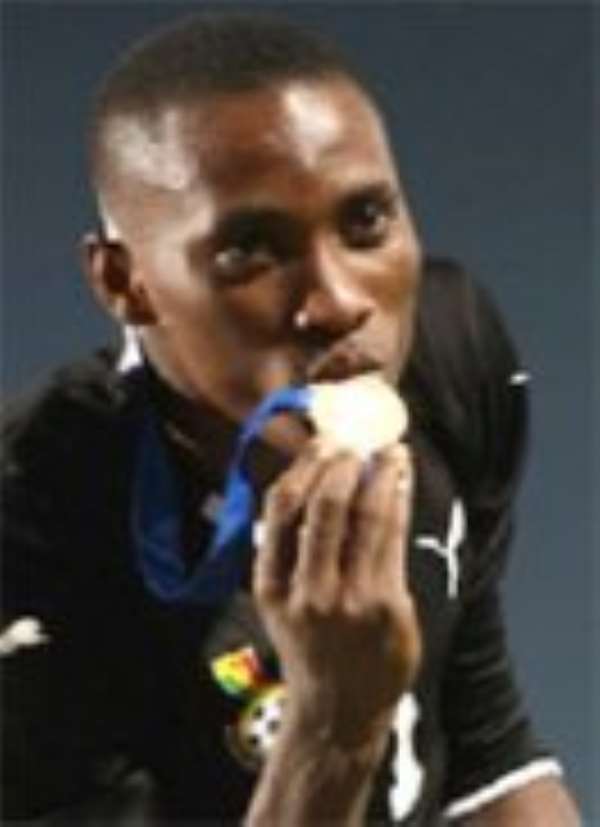 Goalkeeper Daniel Adjei -Ghana
At Abeokuta in Nigeria this afternoon, Ghana and Togo head into a second clash in three days in a straight fight that will determine Group B winners at the special WAFU Nations Cup tournament.
A 2-1 victory last Sunday conferred the status of favourites on Ghana ahead of today's game, but also raised the profile of the tie to a new pedestal that had become the attraction of the tournament so far.
With host nation Nigeria enjoying a vintage outing following victories over Liberia and Niger, it is no coincidence that Ghana remains the attractive piece as a potential showdown between traditional­­­­ West African heavyweight arch rivals, Ghana and Nigeria, looks imminent.
Ghana, represented by a purely home-based Under-23 team, need a draw to top the group ­and avoid Nigeria in Thursday's semi-finals.
But with the stakes raised by their dominance over their Togolese counterparts in last Sunday's game, today's clash could mimic something more than a tournament reduced to a five-nation event.
Indeed, The Gambia and Senegal are the other Group B mates who withdrew from the tournament at the last minute, reducing the group to just Ghana and Togo.
The two teams thus qualified for the semi-finals automatically, but the tournament rules required two meetings between Ghana and Togo to decide the group winners.
On the sidelines of Ghana's own glory-seeking adventure, Coach David Duncan is primed for an image redemption expedition to correct the wrong of Ghana's failure to reach the 2012 London Olympics football tournament.
Coach Duncan's side were woeful in the Olympic qualifier against The Sudan to whom the side fell 2-1 on aggregate. But at the WAFU tournament meant for full internationals, he has braved the odds with the Under-23 team, and stands on the verge of a final berth.
Goalkeeper Daniel Adjei's prowess aside, strikers Saddick Adams and Nathaniel Asamoah have formed a potent force that has complemented the defensive capabilities of Edward Kpodo and Kweku Andoh in Ghana's campaign.
The group winner will meet either Liberia or Nigers, while the runner-up plays Nigeria on the same day. Liberia needed a draw to qualify ahead of Niger, both teams having lost 0-1 and 0-4 respectively to Nigeria in previous matches.