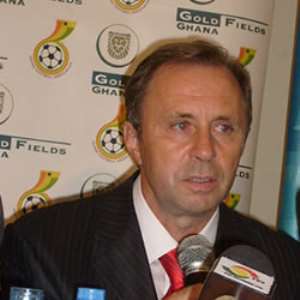 History repeated itself at Houphouet Boigny Stadium, Abidjan, Cote d'Ivoire on Sunday when Democratic Republic of Congo's Leopards beat Ghana Black Stars by 2-0 to become the first team to win the African Nations Championship (CHAN).
Two second half strikes from Kaluyituka Dioko and Mbenza Bedi sounded the death kneel of the Stars, which soccer pundits had predicted to lift the CHAN Cup, a competition restricted to footballers playing in their countries of birth.
In the1968 African Cup of Nations Championship hosted by Ethiopia, Ghana beat DR Congo at the group stages in Asmara by 3: 1 but when the two teams met in the finals in Addis Ababa, DR Congo beat Ghana 1:0 to lift the cup.
Incidentally the Leopards, had suffered a 0-3 loss at the hands of their West African counterparts in their earlier meeting at the group stage played at Bouake.
The two teams were equally matched in the first half as both made incursion after incursion into each other's vital area.
As the game wore on the Congolese found their rhythm as their Tresor Mputu Mabi proved to be a headache for the Ghanaian defence.
Black Stars goalie Philemon MacCarthy was up to his responsibilities when in 12th minute he parried away Mputu's goal-bound shot from a close range.
When the pendulum swung, Ghana succeeded in putting the ball into the Congolese net but it was ruled off-side. Skipper Edmund Owusu-Ansah's header from Charles Taylor's cross beat onrushing Leopards goalie Kidiaba Muteba.
The Congolese began the second half on fast note and took the lead under a minute into the half through Kaluyituka who headed home from Lofo Bongeli cross.
The Ghanaians from then on threw everything into the game but could not find the net. However, it was the Congolese who had a second bite of the pie in 74th minute when Mbenza Bedi blasted home after receiving a pass from Lofo from the left.
This was the first major championship the Congolese have won since the 1974 African Cup of Nations feat in Cairo, Egypt.
GNA