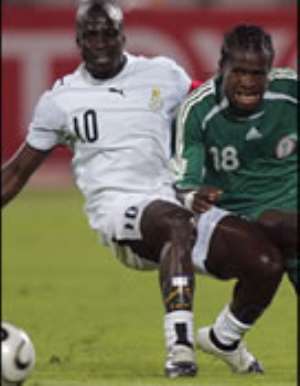 Dimunitive in size (compared to a hugely blessed and sprawling Nigeria), Ghana is a fascinating study in profundity and potential greatness. Ghanaian intellectuals to this day rue the fact that Nigeria, in spite of its potentials, fails to provide leadership for Africa. So pronounced and poignant are the differences between Ghana and Nigeria that an imperceptible rivalry has been touted between the two. Incidentally, the odds, in this subtle rivalry, tend to favour Ghana, a country which landmass and population are not more than the former Kano State (present Kano and Jigawa).
Even as our wily politicians horse-traded for Independence, Ghana's radical politicians, led by the intellectually luminous and savvy Kwame Nkrumah, had earned theirs and were declaring that Ghana was not free until the whole of Africa was from the shackles of colonialism. For good measure, and to assert itself, Ghana cut off from the metropole and established strong ties with the Communists in the orient.
Nigeria's journalism, acclaimed to be the most vibrant and robust in the continent, would seem to have drawn its afflatus and inspiration from Ghana. Africa's foremost journalist, the inimitable Dr Nnamdi Azikiwe, cut his journalistic teeth in Ghana by editing the Morning Post. It was this stint, coming hot on the heels of his authoring Renaissance Africa, that spurred Zik to relocate to Nigeria, set up his chain of newspapers across the country and practiced a politics that was several octaves above the narrow ones of his contemporaries.
Even in such mundane things as football, the aficionados often await a prospective encounter between the national sides of Ghana and Nigeria with baited breath. The two teams are thought, by the fanatics, to be formidable. And they are thought to play the same pulsating style. Worse, each has proved to be the Achilles heel of the other over time.
In matters of intellectual rigour and the arts, not a few Nigerians have respect for Ghanaian schools, intellectuals and music. Our Wole Soyinka once sojourned in Ghana, where he edited the journal, Transition. The late Afrobeat King, Fela Anikulapo Kuti, made several sorties across the border to perform to the delight of his fans. Our highlife genre of music is thought to draw largely from Ghana. By the same token, not a few Ghanaian intellectuals have taught in Nigerian schools, bringing to bear their knack for thoroughness.
Of course, Ghana, like Nigeria has had its low moments. Moments when its affairs were governed by tin-pot dictators and when the economy was in shambles. In the early 1980s, Ghanaians fled their country in droves only to find succour in Nigeria. That was until Ali Baba, former Internal Affairs Minister under President Shehu Shagari, decreed one day that they should leave. Even though they were constituting a burden, Nigerians found Baba's decree rather draconian and un-African. The late Tai Solarin was so hurt by the order to send the Ghanaians packing that he said any time Ali Baba's name was mentioned, it recalled for him a tale in the Arabian Nights entitled: Ali Baba And The Forty Thieves. The tale was about a gang of intrepid robbers led by a fictional Ali Baba.
But if Ghana was once in the throes of untold adversity, it seems to have found its act. Chastening has conferred wisdom and prudence. Nigerians now flock to Ghana, looking for opportunities. Ghanaian schools are said to be in such fine fettle that not a few Nigerians send their wards to study there. The economy enjoys a steady growth. Power, which drives all economies, is in steady supply. And the Ghanaian society is far more disciplined. The upshot is that several companies that have been here for centuries are thinking of relocating to Ghana. Citing high cost of power, Unilever and Paterson Zochonnis, two reputed multinationals, are reported to be considering locating to Ghana.
Ghanaian politics too is light years ahead of Nigeria's. Apart from the glittering troika of Azikiwe, Awolowo and Sardauna, and their immediate cohorts, what we have had since the Second Republic are lacklustre politicians bereft of vision and the colourless types that the late flamboyant Dr. Chuba Okadigbo enthused were incapable of delivering quotable quotes. Compare these epigones with the calibre of politicians Ghana has thrown up: Most are Ph.D. with pedigrees that speak eloquently about knowledge and an uplifting vision. Until the advent of Professor Atta-Mills and Nana Akufo-Addo on the political firmament was such an internationally renowned and sagacious scholar, Adu Boahen. His lectures were once compulsory text for the School Certificate in West African History.
What is more instructive, apart from the intellectual luminaries that are jockeying for power in Ghana, is the remarkable comportment and forbearance demonstrated over there. Consider: The head of the Ghana Electoral Commission has served for more than one term, thereby learning from and correcting the lapses of the previous elections; the electorate spent hours waiting to vote and in some instances, elections had to be conducted several times in some precincts; the staff of the commission were so trusted that they could take electoral materials home and return them the next day without any suspicions or misgivings by contestants or their supporters.
The long and short of it is that the Ghanaian environment is more favourably disposed to elections than ours, where ballot snatching and stuffing are the order of the day; where gun-toting thugs can be caught by television cameras visiting mayhem on innocent voters; or where the voters themselves are not willing to queue for a few hours to vote; or indeed where a sitting president whose party was contesting could declare an election enthusiastically as a "do-or-die affair."
One is thus surprised when one hears Nigerians clarionly expecting our elections to be as wholesome and free and fair as that of Ghana or even the United States. It is legitimate, indeed positive, for us to aspire to be among the best in all walks of life. But we must ask ourselves if we have made the necessary sacrifices or paid the required price. We must also ask ourselves if we comport ourselves with the same perseverance and discipline as Ghana, which is excelling in almost all spheres of life. The fact that we do not comport ourselves well calls for soul searching by all Nigerians and stakeholders in the electoral process. We should summon the courage to ask ourselves whether we have played our individual roles in bringing about free, fair and credible elections.
Often, the Independent National Electoral Commission (INEC) is the butt of the cruelest vilification by our compatriots. To the extent that it is the body that is charged with conducting elections, yes, the buck stops on INEC's table. But the truth is that in an election, there is a legion of stakeholders involved. And each of these stakeholders, by their comportment, act of omission or commission, can make or mar the election. The best preparations can be made by INEC to conduct an election but if such an election is not well funded or secured, by the relevant agencies for example, it will unravel. Similarly, it was the agents of desperate politicians who wreaked havoc at polling units by forcefully snatching ballot boxes or forcing INEC staff, at gun point, to stuff them.
Yes, we all yearn for a day when we shall surpass Ghana and America in all spheres of life. But we must bring to bear discipline, perseverance, forebearance and hardwork. Otherwise, we will remain the cocoyam republic noted for its highfalutin rhetoric that we are.
By Nick Dazang
Source: The Guardian