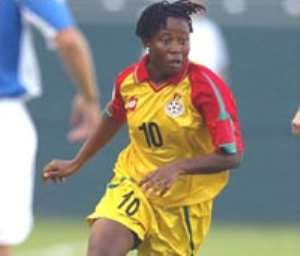 A first round exit stares the Black Queens in the face following a disappointing 0-1 loss to the Bayana Bayana of South Africa in the ongoing 6th African Women's Nations cup currently underway in the Equatorial Guinea.
The Bayana Bayana shot ahead in the first half through striker Victoria who took advantage of a sloppy defending by Aminatu Ibrahim.
The determined South African side looked more composed in every department of the game, but messed up some decent opportunities that came their way.
The Black Queens appeared ordinary in the first half with a non existent attack and a comedy of errors, one of which was converted into the goal.
The Bayana Bayana of South Africa started the second half pretty much the way they ended in the first, pounding the goal area of the queens and forcing some superb saves from Memunatu in post for the Black Queens.
Even though the Queens lifted up their game in the second half, they were denied the priceless equaliser, after Gloria Oforiwaa messed up some decent chances that came her way.
Memunatu prevented what would have been an embarrassing situation for the Queens after pulling two superb saves in two minutes late in the second half.
With the disappointing defeat, the Queens have amassed only a point from a total of six, and needs a "huge favour" from Tunisia, who will play the Super Falcons of Nigeria later on Wednesday.
The South Africa thus becomes the first team to book a place in the Semi finals of the competition, after beating Tunisia in the first group game by two goals to one.
Defending champions Super Falcons of Nigeria, are favourites to qualify along side South Africa.
Story by Nathan Gadugah