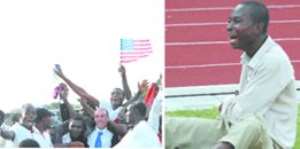 There was joy in Sekondi and Berekum last Wednesday, and agony in Sunyani after two decisive games in Accra and Kumasi left B.A. United wailing, while Sekondi Eleven Wise celebrated a return to the premiership alongside first-time qualifiers, Chelsea of Berekum.
The El-Wak Stadium last Wednesday turned lucky grounds for Sekondi Eleven Wise again as it provided the platform upon which the Western Show Boys staged another conquest back to the Premier League in grand style.
But the day was one of contrasting fortunes — failed bids, bitter memories and happy ending — for various faces as eight teams lowered the curtain on the Middle League in Zone 1 and Zone 2 of the Division One League in Accra and Kumasi.
Wise easily knocked down three competitors, including last Wednesday's 2-0 victory over Samartex at El-Wak, and finally shed the status of a Division One League (DOL) side that had wrapped them for 10 straight years.
And when it finally happened last Wednesday, travelling fans of the club turned the El-Wak Stadium into a partying ground, celebrating in whatever style suited the individual to express what Sekondi Member of Parliament and Minister of Trade and Presidential Special Initiatives, Papa Owusu Ankomah, called a tortuous journey back to where Wise belong.
Elsewhere in Kumasi, B.A. United failed woefully at the crunch moment to realise their own bid for a return to the premiership, losing 0-1 to Chelsea FC of Berekum in the Brong Ahafo Region on the final day, leaving them licking their wounds once again after contending in the DOL for five years.
The failed bid that greeted B.A. United's campaign left the Sunyani township in gloom, while portions of Berekum celebrated the birth of another premiership side from the town after Arsenal.
Indeed, both Wise and Chelsea needed draws in their respective games to seal qualification.
For Wise, their opponents remained largely pedestrian for the liking of Coach Tony Mensah who bemoaned Samartex's lack of concentration and the general lack of tactical discipline by the players that forced them to concede the two goals.
"I did not like the way we played. At certain points it seemed the players were only interested in balooning the ball without any sense of purpose," Coach Mensah said.
While he chided his side for offering little challenge to Wise, it appeared his frustrations were founded on his second failed attempt to qualifiy a team from the wilderness into the premiership.
In 2004 when he coached Mine Stars, Coach Mensah's side was beaten by Kade Hotspurs in their final Middle League game, forcing them into the play-off which they lost to Hasaacas in Accra.
While he rushed into the dressing room after proceedings, it was apparent he had done so to skip the celebrations that had virtually consumed Wise's expatriate coach, Edward Gallagher, and the rest of the team.
"Today is for celebrations, tomorrow will take care of itself," the Scotsman said in a post-match interview, summing up what would prevail thereafter as Sekondi stayed awake for the rest of the night after Wise won their eighth straight game and found their way back into the premiership after 10 years.
Story by Michael Quaye & Peter Sarbah