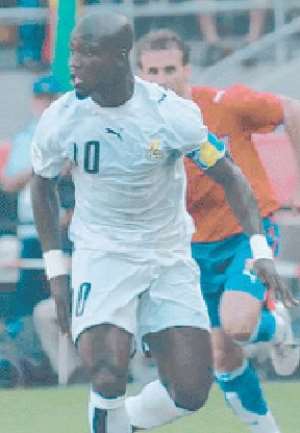 Doubts still hang in the air about the destination of Black Stars captain Stephen Appiah who has his eyes fixed on the English Premiership this season.
At press time yesterday, the Daily Telegraph had reported that West Ham, now coached by the Italian football legend, Gianfranco Zola, were in talks with the influential Ghanaian midfielder after offering him a £40,000 a week salary for three years against Appiah's £60,000 expectation.
Appiah, who has been out of action following an injury last November, reached a mutual agreement over an early release from his contract at Turkish outfit Fenerbahce last month and his availability on a free transfer has alerted a host of European suitors to his services.
He had been linked to several European top clubs including Blackburn Rovers, Arsenal and Portsmouth, who were serious about signing him but ended their pursuit because of his high wage demand.
The former Juventus star, has not hidden his desire to play in the Premiership but seems to be frustrated that he was yet to clinch a deal.
"I would like to play in the Premier League, but I don't know," the 27-year-old Stars captain told Skysports earlier this week.
"I also have German clubs interested in me, but we are far apart in financial terms," he admitted.
Despite the situation, Appiah who returned to action with an appearance for the Stars against Libya in a 2010 World Cup/Nations Cup qualifier last month remains optimistic as he maintains his training schedule.
"I am still training. I am keeping my body in shape so I can be ready for action because I know I'll find a new club very soon," he said with optimism.
Although the transfer window is now officially closed until January, West Ham can sign the unattached player since free agents are allowed to join a new club outside the deadline.
However, the Daily Telegraph said a source close to the player insisted that while Appiah is seriously considering West Ham's approach, he is also exploring other potential avenues.
"Stephen is in no rush to sign as he can move whenever he wants to," revealed the source.
"Now he is a free agent and he is weighing up his options."
West Ham's lack of success in the transfer market this summer had made most of the club's supporters unhappy.
But the arrival of new manager Zola seems to have worked some magic as the Hammers have cruised to two successive emphatic wins, 4-1 against Blackburn Rovers and last weekend's 2-1 against Fulham.
Story by Rosalind Amoh