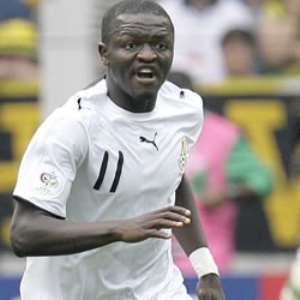 Sulley Muntari, will not be playing for his English club, Portsmouth, this weekend, after his dad was the victim of a savage armed robbery this week.
The midfield ace rushed to Ghana after youths branding AK47s and baseball bats stole cash, jewelery and mobile phones in a terrifying car raid.
Muntari's dad was left with a broken arm and cuts to his head following his harrowing ordeal as he returned from a shopping visit in Nigeria.
And Pompey manager Harry Redknapp phoned to offer his sympathy ahead of Saturday's home clash with Wigan.
Alhaji Sulley Muniru said: "Blood was flowing from my head like water and I thought I was going to die.
"I am surprised it has taken me so soon to recover because of the amount of blood.
"My sons decided to tell him after a Ghana friendly on Wednesday and he was so shaken that he flew home the very next day. He wept when he saw me.
"His coach has shown great concern. He's also called to ask how I am getting on.
"I want to thank Mr Redknapp because he has shown me that he doesn't only care about football but also about family.
"My son is worried robbers will target me because they think I have money through Sulley."
Source: Sun