People Don't Want To Fight Me - Clottey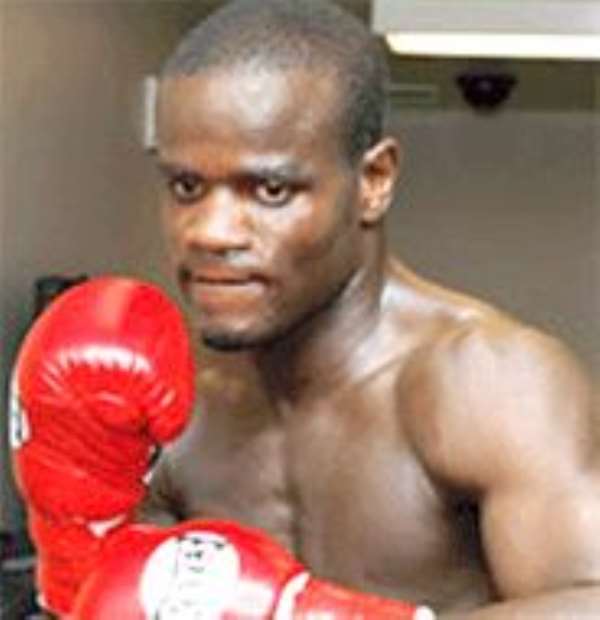 Joshua Clottey will keep his number one welterweight ranking, as he pounded away at Jose Luis Cruz for nearly five rounds till the fight was called 2:52 into the fifth of their scheduled bout last Thursday.
Scores at the time of the stoppage were 40-36 twice, and 40-35. Clottey is no stranger to tough fights. Over the course of his 13-year pro career, the 31-year-old Ghana native has rarely avoided a dangerous opponent or brutal bout.

From battles with Antonio Margarito and Diego Corrales to scraps with Shamone Alvarez, Clottey has done much over the past few years to solidify himself as a major player in the welterweight division.

After his fight against the seasoned veteran Luis Cruz, Clottey is hoping to put the big names at 147 pounds on notice.

Fighting in his new backyard at the Aviator Sports Arena in Brooklyn, NY, Clottey wants the Margaritos, Cintrons, and Cottos of the world to know that they can run, but they can't hide.

"They talk a lot, but they don't want to fight," Clottey said of the division's marketable names.
 
"They know that I know everything in the game. I can see you punching and I know how to defend. If you fight me, you are definitely going to get hit. And if you hit me, I'm going to hit you back."

While Clottey would like nothing more than to fight one of the winners of HBO's April 12th welterweight card, the man nicknamed "The Hitter" realises that the only way to guarantee an eventual mega-fight is to continue winning. In taking a bout with Cruz — 3-3 in his last six fights — Clottey is working to ensure that he keeps himself sharp and conditioned.

"I knew he (Cruz) is a tough guy who won't give up," Clottey, undefeated in three fights since losing to Margarito in December 2006, said. " But I was determined to let him give up in our bout.

"I tried and box him in the first round to see if he was going to be aggressive. He was aggressive, so I also came out punching. I don't want anybody to think they can be aggressive with me. Now that I beat him, I know there will be a title fight ahead of me."

Although a title fight should be granted to Clottey with a win over Cruz, he understands that the business of boxing could prevent it. After besting then-undefeated Shamone Alvarez in an IBF title elimination bout in December, Clottey didn't hold his breath that a shot at champion Kermit Cintron would immediately come to fruition.

Still, Clottey believes the division's champions should have to defend their crowns against the world's best.
 
That means titleholders need more fights with boxers such as Clottey and less with the unproven Alfonso Gomez-types.

"I proved myself with the Margarito fight and the Corrales fight," Clottey said. "It's unbelievable that people don't want to fight me and keep running away.

"It's bad because I'm not getting any younger. If they don't fight me, who is going to know about me?"

In the end, Clottey speaks with a confidence that will never be confused with cockiness or egotism. Likewise, he articulates his thoughts with just the faintest hint of desperation.

"I'm not a champion now, but let me tell you something: I respect my abilities," Clottey said. "I don't give up. Look at the Margarito fight. I was hurt, but I stood there and took it until the end of the fight. "I have what it takes to be a world champion.".