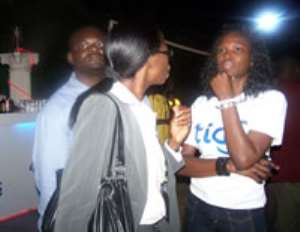 Millicom Ghana Limited, operators of tiGO mobile telephony, is rolling out various sporting activities to rally soccer fans for the coming soccer season; Ghana 2008 and all.
On Tuesday night, tiGo unveiled what it termed its 2007/2008 Community Investment Campaign; with football being a big part of the line up.
Featuring various reality show participants at the launching, including those from the British High Commission's "The Challenge", TV3's "The Battle" mentors and Face of the Universe pageants, tiGO managed to turn the Headlines Hospitality located at Labone in Accra into a multi-purpose sports hall; featuring boxing, billiards, tennis, volley, karate and soccer.
Corporate Communications Manager, Anita Erskine, explained that the company intended to support various activities that would see football fans rally to the support of the Black Stars to not only play their hearts out, but also win the ultimate at the Ghana 20008 Cup of Nations.
"Essentially we know what is about to happen in a few months. This idea of launching a campaign that has to do with fans is because at the end of the day the fans are those who make the excitement, the fans are the ones who remind us who we want to win, and that is we are going for our boys, we want them to bring the cup home so we've decided to make this campaign for the fans to remind them of what is important; to love football, to support the boys, essentially to make sure that at the end of the day we are hospitable to the visitors and that… we have a great time during the tournament."