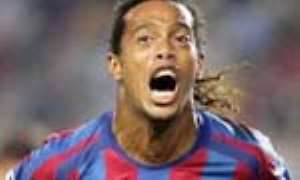 Sevilla (4-1) won 3-1 over visiting English Premier League leaders, Arsenal (3-1-1), which already had clinched a berth in Group H.
After Eduardo da Silva had put the Londoners ahead in the 11th minute, Sevilla got goals from Seydou Keita (24th minute), Luis Fabiano (34th) and Frederic Kanoute (89th-minute penalty kick).
"It was a magnificent performance by the team," Sevilla coach, Manolo Jimenez said. "To come back from a goal down against a team that's top of the Premier League is something important, and I hope we can continue to show the same type of attitude."
In the other Group H game, Zdenek Senkerik scored a late equaliser to give Slavia Prague (1-2-2) a 1-1 tie at Steaua Bucharest (0-4-1), which got a goal from Valentin Badea.
Internazionale of Milan, AS Roma and Manchester United advanced to the second-round of the European Champions League with victories Tuesday night and Barcelona gained a berth in the final 16 with a tie.
Inter (4-1) won 3-0 over visiting Fenerbahce (2-1-2) on goals by Julio Ricardo Cruz, Zlatan Ibrahimovic and Luis Jimenez to clinch first place in Group G.
PSV Eindhoven (2-2-1), which is third, won 1-0 at CSKA Moscow (0-4-1) on a 39th-minute goal by Jefferson Farfan.
Roma (3-1-1) won 4-1 at Dynamo Kiev (0-5) and earned second place in Group F as Mirko Vucinic scored twice following goals by Christian Panucci and Ludovic Giuly. Ismael Bangoura scored a consolation for Dynamo.
Man Utd (5-0), the only team with a perfect record, already had clinched advancement and assured itself of first place in Group F with a 2-1 victory over visiting Sporting Lisbon (1-3-1).
Carlos Tevez scored off a pass from Cristiano Ronaldo in the 62nd minute and Ronaldo got a goal on a free kick in injury time. Fernando Abel had put Sporting ahead in the 22nd minute.

"It was a fabulous goal, I think," Ronaldo said. "I'm very happy, not just because I scored, but because of the win."
Barcelona (3-0-2) clinched first in Group E with a 2-2 tie at Lyon (2-2-1). Andres Iniesta scored in the third minute and Lionel Messi converted a penalty kick in the 58th for Barcelona, which Lyon got two goals from Juninho, on a free kick in the seventh and a penalty kick in the 79th.
Stuttgart (1-4) won 3-2 at home against Glasgow Rangers (2-2-1) getting goals from Cacau (first-half injury time), Pavel Pardo (62nd) and Ciprian Marica (85th). Charles Adam scored for Rangers in the 27th after DaMarcus Beasley's corner kick was headed down by Carlos Cuellar, and Barry Ferguson got a goal in the 70th.
Defending champion AC Milan, Chelsea, Porto and Real Madrid can clinch advancement Wednesday. AP