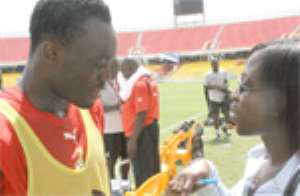 Ghana's Michael Essien has stated emphatically that the upcoming African Cup of Nations dubbed, 'Ghana 2008' will be tough for the Black Stars because of the pressure on them to deliver.
"Though we are seriously preparing for the tournament, there is no doubt that it is going to be keenly contested," he said.
These challenges notwithstanding, the midfield ace believed "the Black Stars will shine" and eventually lift the trophy on February 10, 2008.
Essien made these comments yesterday in an exclusive interview with DAILY GUIDE SPORTS after the Black Stars' training session towards their final match with Benin in the Zenith Bank Four-Nation Tournament, which ends today.
Reacting to comments by some Ghanaian football fans that the teams in Ghana's group for the 2008 nations' cup comprising Guinea, Benin and Morocco were 'cheap', Essien said:
"There is nothing like a 'cheap team' in football. Every team is capable of winning the cup no matter where they are coming from."
On today's final match against Benin in the Zenith Bank Four-Nation Tournament, Essien noted that the players were really going to give it their all, since it was a preparatory match for Ghana 2008, and predicted a 1-0 win in favour of Ghana.
Michael Essien, who was born on December 3, 1982 in Accra, currently plays for Chelsea F.C. in England.
He is often referred to as an "all-action box-to-box" central midfielder and plays as a deep-lying playmaker for Ghana.
He began his career with Liberty Professionals, and broke through when he played in the Under-17 World Cup in 1999 in New Zealand. This led to considerable attention from European scouts.
In July 1999, Bastia, a club from Corsica in France, signed Essien on to play for them.
In 2002/2003 season he brought Bastia into the UEFA Cup where he scored 6 goals that season.
He later moved to Lyon where he played more defensive midfield, featuring regularly in the Lyon team that won the third and fourth of their current string of five consecutive Ligue 1 titles.
In August 2005, Essien declared that he would "go on strike" against Lyon because of the club's refusal to transfer him to English giants, Chelsea.

It was announced on 14 August that Lyon and Chelsea had agreed a £26m fee for the Ghanaian, finally ending one of the longest running transfer sagas in recent English football history.
Essien is now Chelsea's second most expensive signing after the club signed Ukraine forward and captain Andriy Shevchenko from A.C. Milan on 22nd May 2006.
The transfer went through on 19 August, purportedly for a slightly reduced fee of £24.4m, nevertheless breaking Chelsea's previous record transfer fee, which they achieved the previous season by paying £24m for Olympique Marseille's Didier Drogba.
Essien scored his first goal for Chelsea in March 2006, in a 2-1 victory over Tottenham Hotspur. His second goal came on 17 April 2006 against Everton. Essien ended his debut season in England with 2 goals for Chelsea, both in the Premier League.
On 16 May 2006, Essien was named in the Ghana team that represented Ghana at the 2006 World Cup in Germany.
He formed a potent Ghanaian midfield with team captain Stephen Appiah of Fenerbahce and Sulley Ali Muntari of Portsmouth.
In another development, President J.A. Kufuor has wished the Black Stars well as they prepare to meet their Beninois counterparts today in the finals of the Zenith Bank Four-Nation Football Tournament.
This was contained in a press statement signed by Andrew Awuni, Press Secretary to the President & Presidential Spokesperson.
The President said, "Black Stars' qualification for the tournament and their 2-0 victory over their Togolese counterparts last Sunday are signs of good things to come."
He said victory over Benin to lift the Cup is a necessary prelude to the upcoming African Cup of Nations to be staged in Ghana in January next year.
"I have no doubt that you can do it to inspire yourselves and to assure all Ghanaians that you are capable of winning the African Cup of Nations in 2008. I wish you the best," the President added.
By Esther Awuah