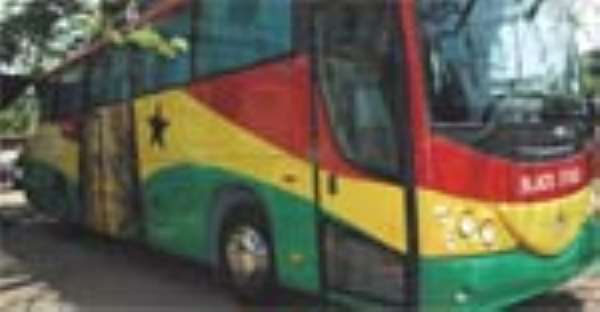 MANAGEMENT OF Guinness Ghana Breweries Limited (GGBL), Ghana's most celebrated company and official sponsors of the Black Stars, yesterday presented a Guinness branded 55-seater Mercedes Benz MCV Bus to the senior national soccer team.
The ceremony was attended by some personalities including Mrs. Pamela Djamson-Tettey, Corporate Relations Director of GGBL, members of the Ghana Football Association (GFA) Executive Committee, the Black Stars Management Committee and Black Stars coach, Claude Leroy.
Presenting the bus keys to Mr. Kwesi Nyantakyi, President of the GFA, in the presence of the Deputy Minister of Education, Science and Sports, Hon. O. B. Amoah and Miss Elizabeth Ohene, Minister of State at the Ministry of Education, Science and Sports, at a short but colourful ceremony at the premises of the Ministry of the Interior, Mr. Seni Adetu, Managing Director of the GGBL said, "We are proud of our long-standing association with the Black Stars and like many other fans of the team, we are inspired by the continued passion and commitment of the players.
"The donation of the bus along with continued financial support, affirm our belief in the Black Stars, and hope it will encourage the team to reach for greatness and conquer Africa for the fifth time during the forthcoming Ghana 2008 tournament," he stated.
On his part, Mr. Nyantakyi, President of the GFA praised GGBL and said the gesture was a clear manifestation of the company's consistent commitment to the cause of the Black Stars.
He expressed the hope that Guinness would bring its profile as a successful company to bear on the fortunes of the Black Stars as they prepare to conquer Africa.
Miss Elizabeth Ohene thanked the Minister for the Interior for allowing the function to be held there.
"The Minister (of Education Science and Sports) would be very grateful and we wish that those who handle the bus will take care of it very well," she added.
It would be recalled that the GGBL on August 25, 2005, signed a renewed three-year sponsorship deal with the senior national team, the Black Stars.
By Pierre Toto