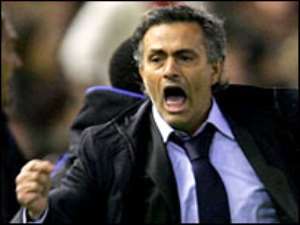 THE ENTIRE nation is expected to stand still today as an eleven-man contingent from Stamp ford Bridge zoom in for a charity event put together by Right to Play, an NGO.A notable absentee was Michael Essien who was supposed to be among the Chelsea contingent. But already in town are Coach Jose Mourinho and others.
The team will begin their visit with a press conference at the Golden Tulip on wednesday and follow up clinics with some Ghanaian youth sides.
The contingent will also travel to Tamale in the Northern part of Ghana and Dansoman in Accra.
The trip forms part of Chelsea's social responsibility to raise a $5million for Right to Play for its activities over the next few years. Right to Play has its parent body in England.