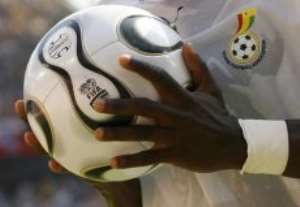 Ghana's quest to win a sixth African Cup of Nations title is expected to receive a major boost from the tournament's sponsor, MTN who incidentally are and the official communication partner for the senior side, the Black Stars.
On Tuesday, officials of the leading cellular service providers in the country held a brief meeting with some executives of the Football Association at the headquarters of the GFA in Accra while on a working visit.
The familiarization meeting was to introduce the new marketing manager of the Areeba/MTN group, George Andan and his team made up of Mawuena Dumor and Thomas Sowah to the FA set up which had the President, Kwesi Nyantakyi, Fred Pappoe (vice-president of the FA), Randy Abbey, George Amoako, Adam Munkaila and Nana Ntiri-Dankyi all executive committee members.
After a closed door session both sides held a short pressing briefing chaired by the FA president, Kwesi Nyantakyi.
The FA president after welcoming George Andan on board stated that both sides would be seeking to consider other areas of mutual interest.
"We are very hopeful that our cordial relationship would continue. We have enjoyed it.
"Areeba/MTN has lived up to its contractual obligation and we have had a mutual beneficial relationship with you (Areeba/MTN).
"As a prominent sponsor of the 2008 African Cup of Nations, help us not only to host but to win it," Kwesi Nyantakyi said.
Afterwards, George Andan took his turn and thanked the Ghana Football Association for the wonderful relationship it has had with the cellular service provider.
"We believe Areeba has built a relationship with you and want to maintain it. I confirm our commitment for CAN 2008.
"We are primarily here to say thank you for accepting us as a partner to take football forward.
"The marriage is permanent and it's going to get better going forward," Andan told the press.
The Black Stars has enjoyed the working relationship with the cellular service providers prior to their participation at the 2006 World Cup finals in Germany.