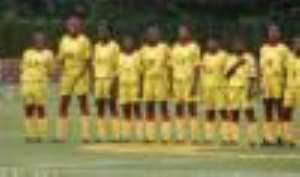 The man who successfully helped the Black Stars scout and monitor opponents before the world cup is set to move another milestone in football development in Ghana.
Coach Robert Sackey has told myghanafootball.com that things are coming together as the U-13 Mavericks girls team prepare for a Ghana soccer Tour in December 07, for 2 weeks. The goal is to help promote league play for young girls in all the ten Regions of Ghana, starting from the West.
The Tour, according to the Ghanaian coach based in the United States of America, will also create an opportunity for young girls in the country, who wish to play for the various national teams in the near future.
Coach Sackey also used the opportunity to congratulate the skipper of the Queens, Adjoa Bayor, for her call up into the World XI team, for the first time, adding that the invitation is proof of the quality of the Ghanaian team.
Commenting on the chances of the Queens in the coming world cup to be held in China,coach Sackey expressed the hope that the Queens can still pull a surprise, though it is obvious the Queens might end up in tight group just as their male counterparts in Germany 2006, of which they caused a surprise in the football world.
"Hopefully, we might get into a group of death by playing any of these countries –US, Canada or Germany. But I still think the queens can still pull a surprise just as the stars did in Germany this year" he said.
Coach Sackey wished the Queens all the best in the tournament as well as their male counterparts, the black stars in their subsequent friendly encounter with the Mexicans on June 3.