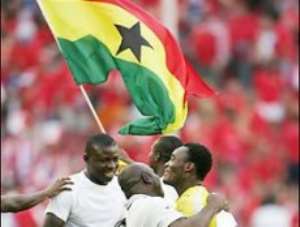 Ghana's opponents went round signing replicas of Romario to mark his 1,000th goal target ahead of Tuesday's friendly match but the Black Stars received an eminent visitor at their hotel.
Former United Nations Secretary-General, Kofi Annan, himself a Ghanaian stepped into the Black Stars' hotel on Monday to welcome the team and shared pleasantries with them.
Kofi Annan who brought best wishes to the team was accompanied by the wife, Nane Annan, a Swede.
The UN Secretary-General is expected to be in the lounges at the rehabilitated Råsunda stadion to watch Ghana take on former world champions, Brazil in a high-profile non-competitive friendly.
Kofi Annan was Secretary-General of the United Nations from 1997 through 2006 after succeeding Boutros Boutros-Ghali of Egypt in the post and was elected for a second five-year term in 2001, and served until the end of 2006.

Tuesday evening's match marks the re-opening of the stadium nicknamed - The Concrete Bunker, in Solna as the two continental football forces draw the crowds for the first game of the season at the grounds.
The game is rematch of the second round game of last year's World Cup in Germany and comes almost nine months after the South American nation edged out Ghana in that game.