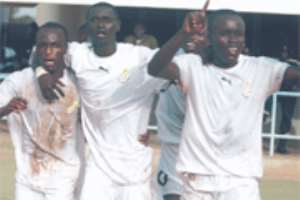 Coach Osam-Duodu began a steady journey into history when he guided Ghana to a 3-1 victory over Burkina Faso at the Kegue Stadium, Lome in an opening Group B match at the Seventh Africa Under-17 football championship yesterday.
Winning the last tournament with The Gambia, the veteran coach supervised the Black Starlets' revenge on Burkina Faso in grand fashion in Togo and declared, "every team is capable of winning the tournament".
His counterpart, Piouhiri Webonga, could not help but applaud the Ghanaians: "We thought we had a good team but Ghana has always been a good side".
Two clinical strikes gave Ghana a comfortable lead at half time, and Burkina Faso never seemed to possess the capacity to re-enact the vintage show that shocked the Starlets in The Gambia two years ago.
Under the guidance of the same Coach Webonga, the Young Stallions beat Ghana 2-1 in a group match that threatened Ghana's qualification for the World Cup in Peru.
But once the Starlets stepped in front after only six minutes when Nathaniel Asamoah bent a freekick from the edge of the penalty box beyond goalkeeper Rasmane Ouedraogo, Burkina Faso were consigned to re-enforcing their defence rather than attempting a redemption mission against the skilful Starlets.
Ghana remained dominant thereafter and missed from Asamoah's low header to a corner kick in the 20th minute before Ransford Osei consolidated the lead with a volley as he punished the Burkinabe when Issoumaila Lingane chested the ball onto his path in the 28th minute.
Ishmael Yartey scored a classic goal on the stroke of the 55th minutes after beating goalkeeper Ouedraogo. The brilliant winger latched onto Ransford Osei's pass and beat the advancing Ouedraogo before chipping it home from a difficult angle.
Burkina Faso's Moussa Traore missed a glorious chance in the 58th minute when his chip, after being fed from midfield by skipper Mahamadi Bande, flew past the post narrowly.
But their best moment came seven minutes later when Traore fired home neatly from a move that caught the Ghanaian defence in a trance.
It came at the back of changes from both sides as Coach Osam-Duodu replaced his midfield main boys, Tawiah Opare and Ransford Osei, while Burkina Faso brought on Issa Zanga for Mamadou Thiombiano.
The difficult end for the Ghanaians, as admitted by skipper Benjamin Owusu at the post-match press conference, was when Pero Gwala cleared a chance off the feet of Traore, while substitute Sadick Adams shot wide after 70 minutes with just goalkeeper Ouedraogo in attendance.
Story by Michael Quaye