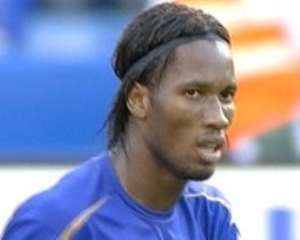 CHELSEA'S DIDIER Drogba, a UNICEF Ambassador, has demonstrated his ambassadorial role when he extended a hand with some detergents and toiletries through his Fan Club, Didier Drogba Fan Club to the Osu Children's Home in Accra.
The President of the Ghana branch of the Didier Drogba Fan Club (DDFC), Bernably Lago after the presentation, indicated that the presentation was a foretaste to a bigger presentation to be done by the Ivorian soccer star when he arrives in the country for the GLO-CAF Awards on March 1. "This is just a widow's mite from the DDFC. I am in constant touch with the Chelsea Star and he has given me the assurance that he will be here himself to do a special presentation," he said.
He revealed that he is rallying about 500 fans to welcome the Chelsea striker on his arrival on March I at the Kotoka International Airport.
Madam Agnes Abolimpoh , case worker of the Home in her acceptance speech, thanked the DDFC for the support and appealed to other corporate bodies to emulate the gesture.