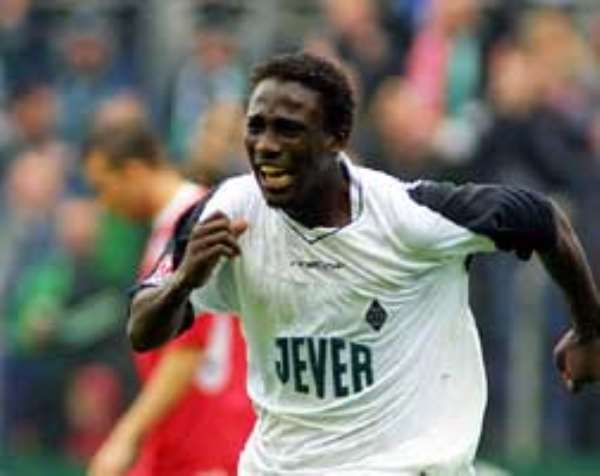 In common with a number of his Ghana team-mates, Lawrence Aidoo plys his trade in Europe. The 24 year-old striker was on Bundesliga outfit Borussia Mönchengladbach's books from 1999 to 2004 before moving on to Nürnberg during the winter break in Germany. And although he ended up on the losing side in his first game for his new club, the speedy forward fired a debut goal against Alemannia Aachen.
FIFAworldcup.com: Who do you reckon will win the African Cup of Nations? Lawrence Aidoo: Kenya played well, but both Cameroon and Senegal look pretty solid.
The African Cup of Nations takes place early in the year, which means African Bundesliga stars miss most of the winter preparation phase plus the first few matches after Christmas, something a number of clubs don't exactly appreciate.
What's your view?
I simply don't understand the problem. No-one says anything when a European international gets a call-up, so why should the clubs react badly when an African is asked to appear for his country? After all, the African Cup of Nations only takes place every two years. If a player is good enough for a call-up, he should be allowed to play.
You are a regular in the Ghana line-up at the moment, so you must have your sights set on qualifying for the 2006 FIFA World Cup Germany™?
All our Europe-based players are determined to be there. It's a long time since Ghana appeared on the international stage, and we'll give everything we've got to win a place in 2006.
How do you rate your chances?
If we play as a unit there's no way we can fail, and in any case we all share the same passion and desire, so I'm very optimistic.
You have been living in Germany for five years -- what kind of a FIFA World Cup do you think we'll see in your adopted country?
Wherever you go, the fans are fantastic. I spent a few years in the Bundesliga, and now I'm in the second division with Nürnberg. It'll definitely be a massive World Cup; obviously the stands will be packed for the World Cup. You always find a bit extra in terms of energy and desire when the stadium's full.
Which country do you think will host the 2010 FIFA World Cup™?
We Africans are delighted with FIFA's decision to have the finals on our continent. At the end of the day, it really doesn't matter where it takes place as it will be a major step forward for the whole African continent, in both sporting and economic terms.