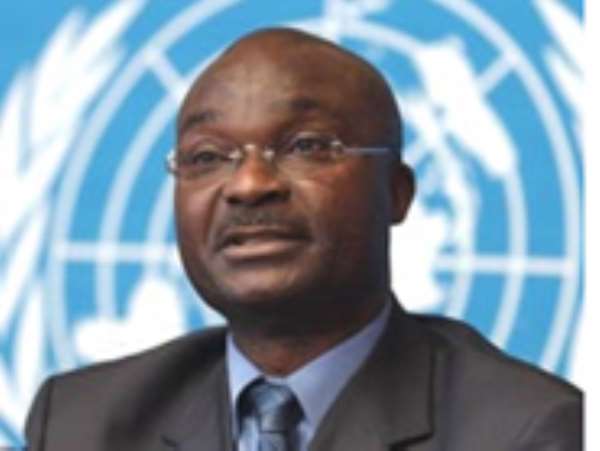 Roger Milla, Cameroonian soccer legend
Roger Milla, Cameroonian soccer legend is scheduled to arrive in Accra on Thursday September 7, to participate in the Global Launching of the CAN 2008 to be hosted by Ghana. The former footballer will assist other football luminaries to unveil the official logo and mascot for the 26th Nations Cup at a ceremony slated for the International Conference Centre on Friday September 8.
The event will also be patronized by the President of the Confederation of Africa Football (CAF) Issah Hayatou, CAF General Secretary, Moustapha Fahmy and Suleiman Habuba, Director of Communications, Public and Media Relations, CAF.
Milla, who lived most of his playing career in France, is an ardent admirer of Ghanaian soccer.
The former star who took the world by storm with his dazzling skills and exception goal scoring abilities in the Italia '90 World Cup' is also a FIFA Football Ambassador for the 2010 World Cup to be hosted by the continent for the first time in South Africa.
Some selected FIFA Football Ambassadors, according to Magnus Rex Danquah, Chief Operating Officer of the Local Organizing Committee (LOC) would also participate in the launch and would be expected to highlight the preparations made so far.
Milla, who last stung with the Indomitable Lions in 1994 when he was called out of retirement to 'deliver' his team at the FIFA World Cup held in the United States of America (USA 94) would also participate in the LOC-organized football clinics scheduled for the playing field of the University of Ghana, Legon on Saturday September 9.
The clinic, which is expected to pull together about 200 children, would also have three-time African Footballer of the Year, the maestro, Abedi Ayew Pele as a facilitator.