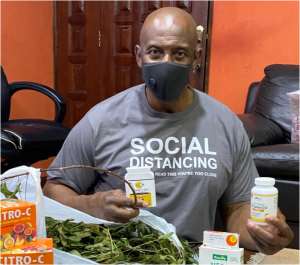 The President and Board Chairman of Ghana Rugby Football Union, Herbert Mensah has revealed what the Union is doing to protect its members from the pandemic.
According to Mr. Herbert Mensah, measures have been put in place to ensure that members of the union are free from Coronavirus after some recently recovered from the pandemic.
The seasoned sports administrator shared his view about the pandemic and the campaign that the Ghana Rugby Football Union have been embarking in support of the fight against the disease when himself, Africa Rugby, and other sponsors donated health items to the Ghana Rugby Ladies to support the Coronavirus fight.
"Covid-19 pandemic is something that is clearly taking up most of our time, everybody has different views about it with what we do with it and after Covid-19.
"We at Ghana Rugby are quite clear that we need to protect our own, the government is doing his own. We have invested a lot of time since March in educating and promoting the wearing of masks and social distancing which has been one of our front line campaigns in the fight against COVID-19. We fell passionately about this, all sportsmen should be healthy with a healthy lifestyle", he said.
The former Asante Kotoko Chairman added that "the pandemic has brought a lot of things to a fall, there is no cure but what we do understand in the short term is the wearing of masks and social distancing.
"Beyond that, my experience of what is going on in Ghana is that we have quite a large count but very few deaths and any death is a sad occurrence. Many people are asymptomatic, they actually don't fell anything but it real.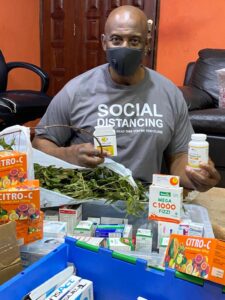 On what the Ghana Rugby Union did when one of their members tested positive for the disease, Mr. Herbert Mensah said, "recently we found two people that we are very close with in the same house, sharing the same bed, one tested positive for coronavirus and the other negative.
"With all that we have experienced, what is clear is, if your immune system is very strong, you have a much greater chance of moving along without affecting you and others.
"But those who got it, we researched, listened to advice and ensured that we were able to encourage them to take high doses of various supplements, that is Vitamin C, D, Zintabs and others.
"Am happy to say that, we [Ghana Rugby] have made it a plan of our own since March to bring supplements for to relief players and for those who have contracted the disease in different areas.
"Our recent supplies have come in courtesy of donations from Africa Rugby and other sponsors. We [Ghana Rugby] thank Khaled Babbou and Africa Rugby for what they have done and the others who have also helped in investing in the personnel which is very important.
"We intend to make sure that most members of the Rugby family that are available and have access to will all go through the re-testing and we provide the strong support", he concluded.
The Ghana Rugby Football Union has been supporting the fight against the Coronavirus fight. They recently donated face/nose masks, shields, and other essential vitamins to polling centres at the Korle-Klottey Constituency in the Greater Accra and urged Ghanaians to keep adhering to Coronavirus safety protocols.
Coronavirus cases in Ghana
Ghana has confirmed 26,125 cases of the disease after new cases of 695 were recorded as of July 16, 2020.
According to the latest update from the Ghana Health Service, 22,270 have recovered from the pandemic with active cases now at 3,716 while 139 persons have died.
---XLiveAfrica.com