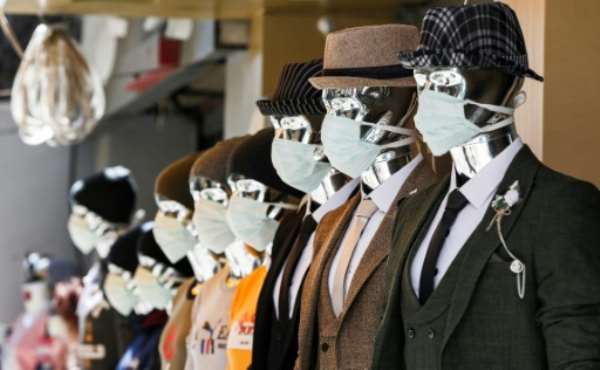 The world is being challenged like never before. We are facing a global enemy whose deadly impact is being felt in real-time across all the continents. Governments, institutions, health professionals, scientists and researchers, and others are doing their best to find solutions. Our prayers are with all of them to succeed.
In addition, as Christians, we will continue to trust in God, Jesus Christ, the Holy Spirit, and the Bible for inspiration, peace, comfort, healing, deliverance, and salvation.
"Teacher, do you not care that we are perishing?" (Mark 4:38 NRSV). The teacher mentioned here was our Lord and Savior Jesus Christ. The people who asked the question were his own disciples. The short answer to the question is that Jesus Christ cares! And the setting was that Jesus and his disciples were travelling in a boat when they were confronted by a strong windstorm that threatened to capsize their boat and drown them. While his disciples were terrified of the danger, Jesus was asleep. They woke him up and he calmed the storm and thereby rescued them from what could have been a deadly experience. (Mark 4:35-41).
With twelve disciples in the boat facing the danger of death by drowning, it is understandable that each would express his fear and anxiety differently as recorded by the three Gospel writers who covered the incident - Mathew, Mark, and Luke. The three versions of the disciples' reactions and utterances describe three ways in which people handle troubles or problems.
There are those who identify or complain about troubles or problems, but do little or nothing about them. They may talk about them with others, but would not do anything about them or ask others directly to help. In Luke's account of the incident, the disciples said, "Master, Master, we are perishing!" (Luke 8:24 NRSV). The disciples simply made a statement to Jesus, and expected Jesus to understand the situation and act accordingly. The second group of people are those who identify problems or troubling situations and blame others for them. Those would be like the disciples who asked, "Teacher, do you not care that we are perishing?" (Mark 4: 38 NRSV). Those disciples asked Jesus the provocative question as if Jesus was to blame for the storm.
Then, there is the third group of people who see problems or troubling situations and take actions themselves or with the help of others. Those would be represented by the disciples who said, "Lord, save us! We are perishing!" (Matthew 8:25 NRSV). That was a prayer. They made a specific request to Jesus to save them from death by drowning.
When we are in trouble, as we are these days, we should approach God with a contrite heart, reverence, and in humility. Blaming or questioning God does not serve a useful purpose. Approaching God with a sense of entitlement is not helpful, either. God does not owe anyone anything. Our relationship with God is based purely on His love, grace, and mercy. That is why God says He will have mercy on whom He will have mercy, and will have compassion on whom He will have compassion (Exodus 33:19; Romans 9:15). Blaming or questioning God does not inspire Him to act in a person's favor, and may be counterproductive.
Whether we are perishing, drowning or dying, as used in various Bible translations, we are in big, big trouble. It would be helpful for us to follow the advice of our brother James that if anyone is suffering or in trouble, he or she should pray (James 5:13). Help is on the way. By God's grace, this present bad situation shall pass. Therefore, do not ruin your long lasting relationship with God because of this passing bad situation.
By government orders, employer orders, and self-quarantines, many people worldwide have been kept at home, unable to go to work or perform other important outside activities. That frees up more time for people to do things indoors. For example, we now have more time than ever before to fellowship with our families, read our Bible, meditate, and pray to God.
Therefore, instead of blaming or questioning God about things we do not understand, we should exercise our faith in God and pray. Jesus was not happy with the terrified disciples for their lack of faith. Fear will always lurk around, but faith conquers fear. Let us not be the reason why Jesus asked, "… when the Son of Man comes, will he find faith on earth?" (Luke 18:8 NRSV). These are trying times, but we are not helpless. God cares. After all, we serve "the God who gives life to the dead and calls things that are not as though they were." (Romans 4:17 NIV). Let us encourage each other.
Prayer is the key. May God grant us the grace to seek Him daily through our prayers.
Dr. Daniel Gyebi, Attorney-at-Law, Texas, U.S.A., and Founder, PrayerHouse Ministry, Kumasi, Ghana.
PrayerHouse Ministry is dedicated to providing a quiet facility for Christians to pray individually by themselves without any intermediary priest, pastor or any other person. This is a free service. No money is demanded or accepted. One facility is located at Kyerekrom / Fumesua, near Building and Road Research Institute Offices, one mile off the Kumasi-Accra Road and next to a house called Grace Castle. If you are interested, please contact Agnes at 054-7498653. Another is located at Kantinkyiren, at the junction of Kantinkyiren and Konkori, off the Kumasi-Obuasi Road, branching left at Trede junction. Contact Kwadwo at 020-8768461 / 0246-989413.