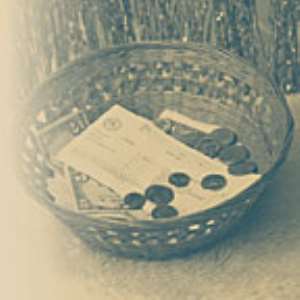 What are the comments mostly made by Christians after Church Service? Why does the announcer spend more than twenty minutes on the pulpit bringing to our knowledge the importance of money in Church management. Well is it because most of the populace have stopped paying or contributing their tithe. Have the church members reduced the ceiling of the tithe payment from One-tenth of what Abram gave to half of the requirement of what was asked to bring to the Levites.
God speaks proverbially on money. He knew money would be a valuable thing to hold on to. God also needs money to promote his course on earth. When God blesses an individual, it is for a course and a purpose.
When such announcements are made, do we quickly feed on SWOT and PESTLE analysis to buttress the point why we don't have to pay tithes at all?
Well, is it not debatable that we are in challenging times when even most Christians have to pack GH¢1 and GH¢2 Ghana cedis in our wallet to church.
Challenges, situations are passing phenomenon which one should note.
In Ghana, can the church entrusts Corporate Trustee to collect individual tithes. This includes the formal and informal sector. For the formal sector, Trustee could easily be tracked, especially those who are paid by the Controller and Accountant Generals Departments. When this is perfectly done, can it help solve the problem of tithing in church?.
Tithing is an old testament practice of the law. In our dispensation, that's the Grace dispensation, tithing is also necessary. We should not forget that under the Grace dispensation which we are all enjoying, the son of man came to fulfill the law of tithing and not to abolish it.
The importance of the law on tithing should be based on love and faithfulness. When Individuals within the church are faithful in giving as the poor widowhoods mite, I don't think tithing becomes an issue. Do we like to hear from our maker that we are robbing him.? We should remember that where our treasure is, there your heart will also be.(Mt6:21)
With the Grace system, Jesus summarizes and tells oh us of what tithing is in Mark chapter 12.
"Jesus sat down opposite the place where the offerings were put and watched the crowd putting their money into the temple treasury. Many rich people threw in large amounts. But a poor widow came and put in two very small copper coins, worth only a few cents. Calling his disciples to him, Jesus said, "Truly I tell you, this poor widow has put more into the treasury than all the others. They all gave out of their wealth; but she, out of her poverty, put in everything—all she had to live on."
Was there any third party in the collection of the coins of widow? Absolutely no. That was a true sacrifice, worship, and holiness that demands every Christians.
With this article, will the debate continue?. Do we need the announcer to still spend his time on tithing or do we need a Corporate trustee to manage our tithe? Let us all be faithful to the end.