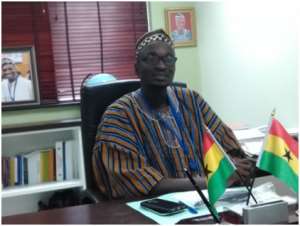 Alhaji Alhassan Mumuni
Member of Parliament for Salaga north constituency in the Savannah region, Alhaji Alhassan Mumuni has supported 40 needy but brilliant students in his constituency.
The beneficiary students were drawn from across the entire constituency
A total cost of twenty thousand Ghana cedis ( GH 20000 cedis) was disbursed to the students from his share of the MPs common fund.
Alhaji Alhassan Mumuni encouraged the beneficiary students to take their studies seriously and also return to serve the constituency after completion of their programs.
He said the situation is different now comparing to the past where the area had just a few literates. He said communities such as Gbung, Fuu, Kpalbe, Jindatuuri, Bunjai, Lentikpa, Jantong and many other communities in the Salaga North Constituency can now boost of a lot of literates in the area.
The MP also appealed to government to complete all projects that were started by the previous administration including the Kpalbe community day school .
He went further to appeal to parents to make sure the enroll their wards in schools since education is the only way to build a better future and reminded them further to take full responsibility and total cost of the upkeep of the children both in school and at home.