I Prevented A Pastor Who Nearly Invested All Of His Church's Money Into Menzgold - Financial Analyst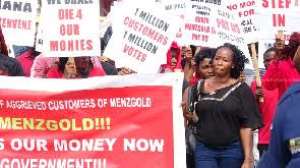 It has emerged that all classes of people invested in the high-profit-yielding investment, Menzgold, which is on the verge of collapse. While management of the gold trading company has hinted publishing names and professions of its customers, it has become obvious that a cross-section of prominent elites fell for the juicy 7-10% monthly return on investement.
Dr. Atuahene, a financial analyst, has bemoaned how many Ghanaians fall easily for such scams without due diligence or seeking the counsel of investment bankers. Speaking to Nana Yaw Kesse on Peace FM's Morning Show, Kokrokoo, he lamented how he had cautioned people about the risk of investing with Menzgold yet all to no avail.
"Someone even said I was too poor to invest with Menzgold. That was why I was resisting others from investing," he recounted.
His caution was all not waste though. "A pastor heeded to my caution. He was about to invest his church's harvest into the so-called gold collectible company."
The financial analyst sympathized with pained customers who had no hope of recouping their money.
Regulators such as Bank of Ghana and Security and Exchange Commission equally cautioned customers on doing business with Menzgold. The company's boss, Nana Appiah Mensah, is currently at large.