A Competition Of Who Prophesied Badder?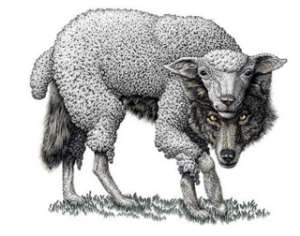 Agyaaku, there is a song by Lucky Dube and its relevance is at play in Sikampoano town, currently. That song says in part 'we see them every day moving up and down, holding the Bible in their hands… They're going to church every Sunday, telling people they are Christians'. You remember that song, Nana? It is titled false prophets. The song continues that, from our reading and overstanding of the bible, most of these guys are false prophets dealing in lies and illusions. Nana you know I am no theologian or political scientist. But there are things you don't need to be an expert in a specific field before you can make contribution to.
Agyaaku, things are happening in this Sikampoano town that if we don't speak about them, it will rock our religious boat, perishing us before we get to the banks of the Promised Land where we envisage good living. Ordinarily, I don't discuss religion, especially inter-religion. I also don't do partisan politics. Please don't get it twisted. Your grandson is not non-religious, and I am not apolitical. I believe in God and I vote too. But as you know, Nana, I practice religion and politics with a measured level of reasoning. I don't take offence with those who do not believe in what I believe in or those that oppose who and what I vote for. It is their choice and I respect that just as I would like them to respect mine. If I want them to believe in what and who I believe in, it should be with my good works, but not with shouting and screaming about my belief, or worse, attacking them for not sharing in my belief.
Nana, I have come to realize that religion and politics are twins. They are mainly the aspects of our lives that we follow and practice without much of logical reasoning and critical analysis. If not politics what else would let you tell your people that you tried to use a fortune to better their lives by embarking on animal rearing but the animals flew to the neighbouring country, without a trace. And if not for politics how would a succeeding government keep a health facility under lock while people need such places to attend to their health needs. Are these logical? And, sadly, the people whose lives are affected by these acts would defend the politicians, even with their lives. Is this logical?
Agyaaku, religion is no different. Because of religious beliefs people would bypass a hospital and go to the priest or prophet to seek healing of some sort. What is the logic in that? Growing up I had lots of priest friends. They helped shape my thinking and practice of religion. On a number of occasions people brought their relatives for prayers because they were sick. In all situations these priests would ask the relatives 'have you taken him/her to the hospital?' Often times, the answer was no. The priests would pray for them but strongly advised that they are taken to the hospital for checkups and treatment. Is that illogical? But maybe that is just my denomination and its priests.
The religion I practice advises us to be wary of false prophets and false prophecies. But do we hearken to this? Out of the fear of our own shadows we follow these prophets and their prophecies without giving a thought about it. So we are told that an over 80-year-old person will die this year and we panic. What happened to Psalm 90 v 10? Fellow believers, let us apply some logic to some of these prophecies. Let us apply the wisdom God gave us to some of these fiction of prophecies and we will realize how easily decodable they are. Let us read our holy books and pray. God will answer us. He would reveal to us what we are to guard against. Do not be an alumni of the church, using 31st December as your home-coming day to your alma mater (the temple) in order to crossover to a new year, only to come over to the dealings you exhibited in the previous year, after a couple of months if not weeks into the new year.
Yes, religion is said to be the opium of the masses, on the accounts of Karl Marx; but why, or how? Marx was of the opinion that religion has some influence on society similar to the influence that opium has on a person who is sick or injured. This similarity between religion and opium is that they both bring down people's immediate suffering, howbeit illusional. And the other harmful part is that it prevents believers from seeing the class structure as well as the psychological and physical oppression surrounding them. This is however not different from politics. Thus we can comfortably say religion and politics are now the opium of the masses. Practice them in an extreme or intolerant way, and you hurt humanity.
And yes, Nana, such extremism and intolerance has just been exhibited. Who appointed some people as the executioners of God's wrath and vengeance? Why should you destroy property and endanger lives because of a prophecy, be it fake or authentic? That barbaric act should stop, should it not Nana? They should use dialogue; use the law; not fists or machetes. That's not the way to go. To this, Nana, the chief Imam must be commended for his swift response of rebuking the self-styled executioners.
Agyaaku, I am of the opinion that we should point the following to these men of God: Mr. Prophet, living in luxurious mansions and vehicles while your followers struggle to make ends meet; wearing of the most in vogue suits, and shoes as pointed as a cat's tooth and shiny as chrome, should suffice. Please stop the fear mongering. Stop the lies and illusions. That is not what you are called to do, if you were genuinely called. You can go to all the prominent people you are prophesying about and deal with the prophecy with them. Nana, I remember a famous person saying that 'these are what they say and in dark some of them machinate to get you killed just to let their so-called prophecy come to pass'. The actions of these men of God are gradually swaying people from believing in God, just as similar acts over the years have rendered most people unbelieving in the western world. There is a better way that they can advertise their church than this annual fear and panic ritual. They must stop using prophecies to rip their followers off; they must stop exhibiting affluence and opulence. This annual competition of who prophesied badder ought to stop, Mr. Man of God!!!
I will leave it hear Nana, continuing with false prophets song, sang by Lucky Dube. Long live Sikampoano!!
Mekyea obiara!!!
Written by:
Clement Boateng
Consultant/Founder - ClemBoat Consult
(www.clemboatconsult.com)
Email: [email protected]