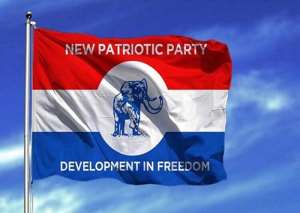 This is the first time I am writing to you since you joined your forebears last December. I know you are in a better place, Agyaaku. As you are aware, the old saying goes: speaking to the wind is a sure way to pass a message to the creator. Now you are with your creator, thus I know you will hear me.
Nana, Friday 12 August 2022 marked the World Elephants Day. Yes, those majestic gentle giants do have a day instituted for them. The day reminds me of the recent happenings in the Elephant group, one of which I am writing to you about.
Agyaaku, the New Patriotic Party (NPP) held their National Delegates Conference from 15 to 17 July 2022 at the Accra Sports Stadium. Over 6,700 delegates converged and voted to elect leaders for the party. There were more than 40 aspirants vying for the various party executive positions. The positions at stake were National Chairman, Vice Chairman, General Secretary, Organiser, Youth Organiser, Treasurer, Women's Organiser, and Nasara Coordinator.
Keen among these contests were the National Chairmanship and the General Secretary positions. However, the most fiercely contested position was the General Secretary position. It was a contest between the incumbent (then) and a very determined challenger from the stronghold of the party. No, they were not the only contestants for that position. There were others. In the end JFK, the very determined challenger won. The incumbent then (JB), lost.
So now the show is over, Agyaaku. New national executives are in place. They have the mandate to steer the affairs of the party for the given tenure. The actual business has just started. Now the issue, Nana, is how do they execute the mandate successfully? There are two major things I have noticed after the delegates' conference and its attendant National Executives elections.
Firstly, after the elections, the newly elected General Secretary (JFK) noted that he is going to consult his predecessor, JB, when necessary - in his line of work. This seems to not have sat well with some party members, mainly JFK supporters. These supporters say JFK, and by extension the newly elected National Executives, should not consult JB and the old executives, Agyaaku.
To them doing so will mean JFK opening himself up for his good intentions to be corrupted by JB and his team. But why should someone taking over an office not talk or discuss certain matters with his predecessor? I think as a matter of smooth transition, effective continuity and clarity of issues, it is better to discuss certain issues with one's predecessor since not all issues and knowledge can be poured into handing-over notes. In any case, discussions and seeking opinion about an issue does not mean the implementer takes everything from a discussant hook, line and sinker. Does it, Nana?
The second issue is to do with the proposition that supporters are either in support of, or are against a certain would-be presidential aspirant. There are speculations that all JB followers (say, Set X) are rooting for a certain would-be aspirant; and that all JFK supporters (say, Set Y) are behind the other would-be aspirant. That is very unfounded, and unfortunate. I know people who tactfully supported JFK but do not support the aspirant who is purported to be backed by the Set Ys. Agyaaku, as you are aware, these speculations and self-seeking permutations do not promote intra-party cohesion and togetherness. They must therefore be stemmed out.
Politics is largely about numbers, so such self-destructing permutations and divisions does not inure to the benefit of the political grouping engaging in such venture, Nana. Chairman Ntim, General Secretary JFK, and the rest of the national executives of the NPP already have a daunting task ahead of them. They should not engage in, or allow themselves to be used to perpetuate, these destructive ventures.
Let there be cordiality and consultations between the new executives and the old executives. It is the best way to pass on tacit knowledge and relevant advice to the new executives. Such consultations will also help in continuity and fast-tracking of certain party activities, as well as enhance dealings with stakeholders within and outside of the party. And let there not be the thinking that all JFK or Chairman Ntim followers are against, or are for a particular presidential aspirant. The reality does not support this assertion, Agyaaku. For the late Sir John's statement "fear delegates", is an affirmation of the old saying "nipa tiri nyɛ borɔferɛ na yapae mu ahunu deɛ ɛwɔ mu", to wit you cannot decipher the thought of a person by looking at their face. This applies to the delegates that would be voting during the presidential primaries.
Agyaaku, keep resting in your creator!!
Mɛsan aba biem!!!
Written by:
Clement Boateng
( www.clemboatconsult.com )
Email: [email protected]